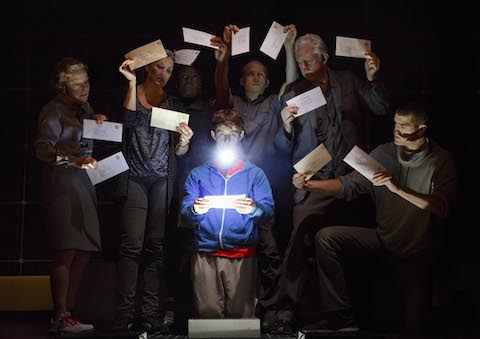 BY NAVEEN KUMAR
The best plays, like the best fiction, force us to see the world in a new way. The Curious Incident of the Dog in the Night-Time, a breathtaking new play by Simon Stephens adapted from Mark Haddon's book of the same name, goes one step further—plunging us deep into the frenzied, myopic mind of an uncommon boy investigating the murder of a neighborhood dog. Directed by Marianne Elliott (Tony winner for War Horse), the electrifying National Theatre production, which arrived on Broadway Sunday at the Barrymore Theatre, cracks open the imagination and kicks it into the most thrilling kind of overdrive.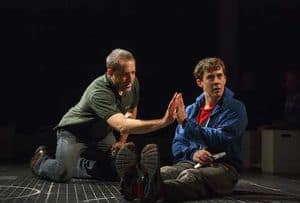 Fans of Haddon's best-selling 2003 novel may remember its unusual narrator, Christopher Boone: a 15-year-old, self-proclaimed "mathematician with behavioural difficulties." Though Haddon has written that his book is not a story about Asperger's or autism, Christopher has qualities consistent with points along the spectrum and, above all, his mind is an extraordinary sort of kaleidoscope through which to observe and navigate the world.
Stephens' adaptation begins as the novel does, with Christopher (played with dizzying precision and sensitivity by Alex Sharp) discovering his neighbor's dog, murdered in the yard. In the ensuing interactions, first with a policeman and later his father, Christopher's particular way of seeing and relating quickly becomes clear: he doesn't like to be touched except for palm-to-palm, he always tells the truth and his relentless devotion to logic finds ultimate solace in math while leading him to think (quite reasonably) that metaphors are really just lies. 
Christopher's recount of the play's events is narrated, initially, by his teacher Siobhan (a robustly heartfelt Francesa Faridany) as a story he has written for school. As the plot launches from his canine recon to shattering revelations about his family, Christopher is thrust onto a collision course with his most terrifying mental roadblocks—including a narrow capacity for emotions, paralyzing fear of sensory chaos and limited ability to move about the world.
A nimble, multi-talented ensemble morphs into the drama's many characters and creates the show's people-powered stage magic (who says a boy needs suspended cables to dream of flying?). Sharp, a recent Juilliard grad, makes a dazzling Broadway debut, animating Christopher's every frenetic mental shift with mesmerizing agility. As his parents, Richard Hollis and Enid Graham reveal the heartbreaking heft of raising and loving a child like Christopher.
Every facet of Elliott's deftly imaginative production works to visualize Christopher's inner life—from his revelatory, often moving flashes of mental clarity to moments of overwhelming terror. An ingenious team of designers does stunning work creating a world ordered around Christopher's experience—lines, light, noise, arithmetic—all imbued with a sort of magical realism.
At first, organizing his experience into words is a way for Christopher to cope with being an outsider; Siobhan reading them aloud acts as a kind of validation. Watching Christopher take control of his own story as the play unfolds is as beautiful as it is empowering—particularly for anyone who's ever felt like a misfit.
Recent theatre reviews…
Political Sex Scandal Comedy 'Tail! Spin!' Opens Off Broadway: REVIEW
James Earl Jones and Rose Byrne Open in 'You Can't Take It With You' on Broadway: REVIEW
Mia Farrow and Brian Dennehy Open 'Love Letters' on Broadway: REVIEW
'Bootycandy,' Brassy Comedy About Black, Gay Experience, Opens: REVIEW
Michael Cera and Kieran Culkin Open in 'This Is Our Youth:' REVIEW

Follow Naveen Kumar on Twitter: @Mr_NaveenKumar (photos: joan marcus)