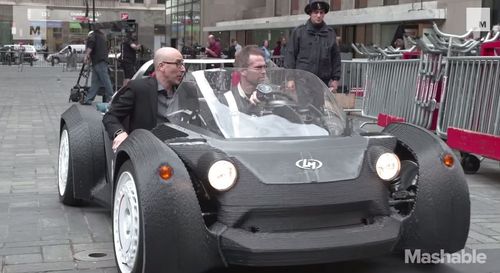 A weekly round-up of the best tech, science, and geek-related news from around the web

 Mashable takes the world's first 3D printed car for a test drive.

 But don't get too excited for the possibility of 3D printed flying cars in the future, as Space X and Tesla CEO Elon Musk explained this week why flying cars might not be such a good idea after all. "If the sky was full of cars flying all over the place, it would affect how things look. It would affect the skyline. And it would be noisier and there would be a greater probability of something falling on your head. Those are not good things." You can still get excited for ground travel though, as Musk this week unveiled Tesla's all-wheel drive 'D' model.

 Check out this NASA video showing how Orion – the spaceship that will one day take us to the Moon and Mars – will be launched on top of a Delta rocket December 4. 

 Earlier this week, Facebook launched hyper-local advertising that can target you with ads for businesses within a mile of your current location. The company is also working on a stand-alone app that allows users to anonymously interact with one another.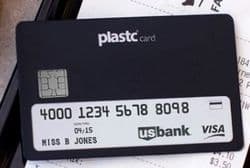 Introducing the Plastc card, the e-ink card that may one day replace everything in your wallet. 

 Google chairman Eric Schmidt warns that the government's mass surveillance programs may end up "breaking the internet" In related news, Twitter is suing the federal government to protect its right to provide information about the scope of U.S. government surveillance on individuals.

 The science behind why orange juice tastes gross after brushing your teeth. 

 A group of engineering grad students from MIT are predicting the 2022 Mars One colonists will suffocate on the red planet a mere 68 days after arrival. "At about 68 days, the first wheat crop will reach maturity and the level of oxygen will spike. To avoid a huge fire hazard, the oxygen will need to be vented, but there is not yet a reliable way to preferentially vent oxygen without also venting the nitrogen used to maintain pressure. Thus, the colony will run out of nitrogen almost immediately. The end result, says the paper, is suffocation due to low air pressure. Well, that or the habitat explodes and the survivors suffocate outside."

 A Japanese company has created a cloud control "smart ring" that enables wearers to control their smartphone, smart home appliances, smartwatches, and Google Glass. The aptly named Ring has already completed a successful Kickstarter campaign and can be yours for $269.99. Check out the promo video below:

 The Boston Globe looks at the growing number of post-doctoral science students languishing without jobs due to federal funding cuts. 

 The U.S. Navy is testing the use of "drone" boats to swarm enemy vessels.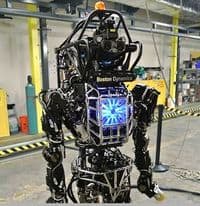 A robot first responder that can go where humans can't. "Atlas was designed by Boston Dynamics, a leading robotics company, under contract with the Pentagon. The goal was to create a bot that could replace rescue workers in dangerous areas— Yosemite during last year's wildfires, for example, or the Philippines after a massive typhoon, or Napa, California, after the 6.0 earthquake in August. Thousands of first responders each year are put in danger, or die, at such sites. The 6-foot 2-inch, 330-pound Atlas uses hydraulically driven joints to exert massive force—one kick can turn a cinder block into crumbs. Hydraulics also allow Atlas to right itself if it's thrown off balance. When Atlas runs, range-finding sensors render the way forward in 3D so it won't trip. Tools such as screwdrivers fit onto its articulated hands."

 In related news, tech research firm Gartner is predicting robots will replace a third of all jobs by 2025.

 The case for a "code" of virtual reality ethics and morality. "Most people in the modern world have been brought up in such a way that it's both ethically and morally wrong to murder someone in real life or to abuse a child. I would argue that if our virtual experiences approach the realism of real life — which they surely will — then it would be a good idea for us to try and behave with at least a modicum of morality. This could be as simple as a code of conduct for developers and publishers of VR experiences, or as complex/overreaching as an active policing system that keeps VR users within bounds."

 Batman's Batcave and Christopher Nolan's Interstellar get the virtual reality treatment.