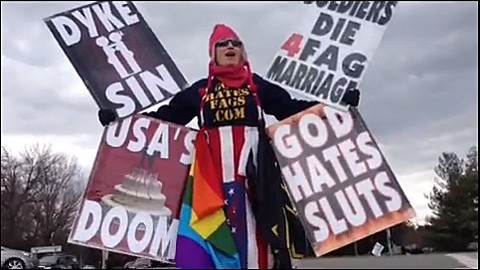 Kansas-based Westboro Baptist Church has filed a brief seeking to intervene in the challenge to the state's gay marriage ban, the Washington Blade reports:
In a 22-page legal brief filed Sunday loaded with references to biblical Scripture and condemnation of homosexuality, the Church seeks to take part in a lawsuit pending before the U.S. District Court for the Kansas, saying same-sex marriage "is utterly contrary to Bible doctrine."
"Same-sex marriage will destroy Kansas," the brief states. "If this Court requires Kansas officials to treat what God has called abominable as something to be respected, revered, and blessed with the seal-of-approval of the government, that will cross a final line with God. The harm that will befall this state, when the condign destructive wrath of God pours out on Kansans is the ultimate harm to the health, welfare and safety of the people." […]
Although the brief doesn't contain the same anti-gay slurs that have made the church infamous, the filing does envision calamity if same-sex marriage is legalized in Kansas based on the biblical scripture. Stories cited by the church include the destruction of Sodom & Gomorrah, ancient cities thought to have incurred God's wrath for allowing homosexuality, and God's destruction of civilization worldwide by Noah's flood.
Don't expect the court to accept the church's request to intervene. A similar, biblically-laced brief by a straight couple last week seeking to intervene on the grounds that gay marriage in Kansas would lead to a theft of their own marriage was tossed out by a federal judge for lack of legal standing in the case. 
Read the brief below via Equality Case Files:
Kansas remains the only state in the Tenth Circuit without marriage equality.