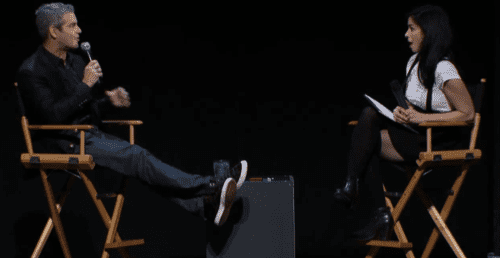 Via the Watch What Happens Live YouTube channel, here's a conversation between Andy Cohen and Sarah Silverman. Writers Bloc Presents hosted the event in New York last week on 11/20, to a sold out audience.
It might seem like a strange pairing, but it's a congenial (if surreal) conversation. Silverman holds her own in the pop culture department (did you know she owns an original painting by Anna Nicole Smith?) In any case, there's a lot to be thankful for in the video — pop culture errata you never knew you needed. From comments on Joan Rivers' death to Silverman's feelings about RHONY's Sonja.
Funny connection — Silverman's sister, Laura, plays Jane in HBO's The Comeback, whose season premiere featured a cameo from Cohen. He recounts his excitement in getting the original call to be on the show, which he describes as a favorite, readily quoting Valerie Cherish.
Check the hour long conversation, AFTER THE JUMP…