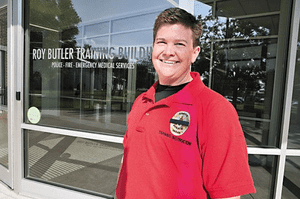 Austin Police Department's Senior Officer Greg Abbink introduced himself as the first openly transgender man on the Austin police force during his Transgender Day of Remembrance speech outside of Austin's city hall on Thursday reports KXAN News. Officer Abbink, who joined the force a decade ago as Emily, officially changed his name this past spring. This year also marks the first time a transgender officer was chosen from APD's Lesbian and Gay Police Officers Association to deliver the speech.
Said Abbink:
"I was honored when I was asked to speak," said Abbink. "I can't imagine the city of Austin or the Austin Police Department, for that matter, being any more supportive than they are. I consider APD my family. They are truly my brothers and sisters."
Officer Abbink says coming out as transgender comes with its own challenges, but recognizes there are certain rewards that come with it as well.
Added Abbink:
"I didn't do this for anyone other than me, and I don't mean to sound selfish, but I had to do this to be the best person that I can be, so that I can serve the public — the city of Austin — to the best of my ability.
"I'd like to be a role model if I can."
Watch Officer Abbink's interview with KNAX, AFTER THE JUMP…