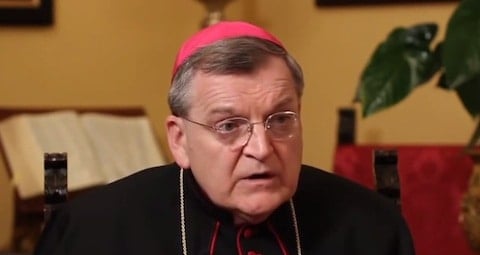 As anticipated, Pope Francis has removed anti-gay U.S. cardinal Raymond Burke from his position as head of the Vatican's "Supreme Court."
Burke has been a vocal supporter of keeping social issues a primary focus of the Catholic Church, going so far as to say that discrimination against LGBT people is "perfectly just and good."
TIME reports:
The pontiff removed Cardinal Raymond Burke as the leader of the Vatican's highest court and appointed him to a ceremonial position as chaplain of the Knights of Malta, a charity group, according to a press bulletin issued Saturday.
That is a significant demotion, according to the National Catholic Reporter. "The position of Patron of the the Order of Malta is usually given to a retired cardinal, or as a second task to an active cardinal," Michael Sean Winters writes. "It has almost no responsibilities."
The Associated Press adds:
Francis has said that church hierarchy should not focus so much on abortion and same-sex marriage but instead concentrate on making the church a more welcoming place. Meanwhile, Burke has said to a Catholic broadcaster that "we can never talk enough" against abortion and same-sex marriage.
He has also questioned Francis' denunciation of excesses of capitalism.
Watch Burke explain why it's "perfectly good and just" to discriminate against gay people, AFTER THE JUMP…