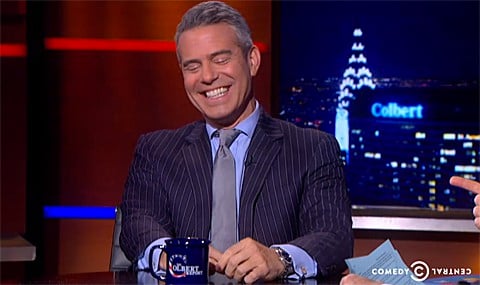 Stephen Colbert invited Bravo host and executive Andy Cohen over to talk about his new book, The Andy Cohen Diaries. Cohen says he modeled the book off of Andy Warhol's diaries because he felt Warhol provided him a model because of their common late-night, celebrity-filled, pop-culture-obsessed interests.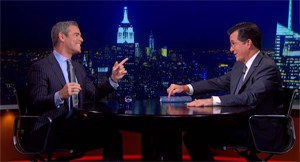 Asked Colbert: "There are so many challenges you face in this book. You fall asleep during your massages. Your local dry cleaners change management without warning. You're trying to get to Fire Island but for some reason West 12th street is closed. Where do you find the courage to go on, Andy Cohen?"
Among the moments of the book up for discussion was an evening Cohen spent with Lady Gaga and 17-year-old Nobel Peace Prize winner Malala Yousafzai trying to eavesdrop on their conversation.
Asks Colbert: "Was she trying to invite Malala to be a 'little monster' whereas Malala actually lives in a country full of actual monsters?"
Watch, AFTER THE JUMP…