#alexfromtarget can add another famous photo to his growing collection of pictures after appearing on Ellen Thursday to discuss his newfound fame, talents and bagging skills with DeGeneres.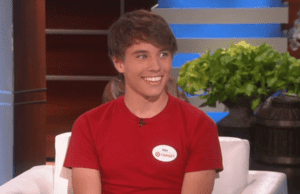 Alex Labeouf, a 16-year-old Target bagger from Dallas, Texas, instantly became Twitter famous after 15-year-old Brooklyn Reiff of Prosper, Texas, tweeted an admiring photo of him bagging her groceries to a friend of hers, YahooTech reports.
Digiday adds that the Twitter photo of Labeouf migrated to Tumblr where it reached an even larger audience including Target, which tweeted "We heart Alex, too! #alexfromtarget." The post traveled like wildfire and Labeouf found himself with an additional 600,000 Twitter followers just days after Reiff posted the original photo.
In his interview Labeouf seems just as confused with everyone else on his sudden rise to fame.
Watch Ellen put his cashier and bagging skills to use AFTER THE JUMP…