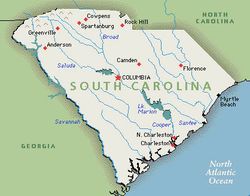 A federal judge has struck down South Carolina's ban on same-sex marriage as unconstitutional. The Washington Blade reports:
In a 26-page decision issued on Wednesday, U.S. District Judge Richard Mark Gergel, an Obama appointee, determines the South Carolina's ban on gay nuptials violates same-sex couples' rights to equal protection and due process under the Fourteenth Amendment of the U.S. Constitution. Gergel bases his decision on an earlier ruling from the U.S. Fourth Circuit Court of Appeals against the marriage ban in Virginia, which lies in the same judicial circuit as South Carolina. "While a party is certainly free to argue against precedent, even very recent precedent, the Fourth Circuit has exhaustively addressed the issues raised by Defendants and firmly and unambiguously recognized a fundamental right of same sex couples to marry and the power of the federal courts to address and vindicate that right," Gergel writes. 
Just last week, South Carolina filed a motion with Judge Gergel asking him to oppose a requested injunction on the state's marriage ban.
Though Gergel's decision comes as welcome news to advocates of marriage equality everywhere, he has issued a one week stay of his decision until November 20 at noon, meaning same-sex couples in the Palmetto State will not be able to marry until that time.
Read Gergel's decision, AFTER THE JUMP…
2:14-cv-04010 #37 South Carolina Order by Equality Case Files