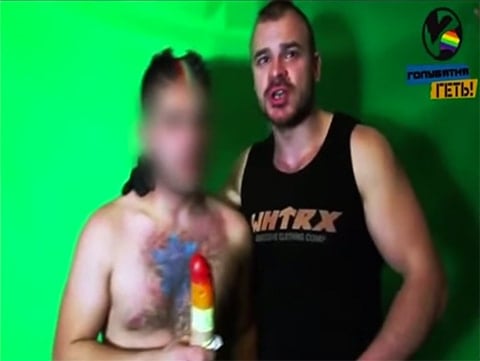 Maxim Sergeyevich Martsinkevich, the leader of the virulently anti-gay Russian group "Occupy Paedophilia", who was previously sentenced by a Russian court to five years in a penal colony for acts of extremism has received a reduced sentence, according to BuzzFeed:
In August, a Russian court found Martsinkevich, who goes by the name Tesak, or "Machete," guilty — not of attacking gay men, but of inciting ethnic and religious hatred for his statements about a Moscow race riot. The court sentenced him to five years in a labor camp. Today's ruling reduces that time to just under three years.
Russian media reported that Martsinkevich's sentence was adjusted on appeal because his crime of making extremist statements did not result in casualties. He previously served three and a half years under a prior conviction for extremism.
Martsinkevich had previously fled Russia to avoid prosecution, taking refuge in Cuba. However, he soon returned to Russia and was quickly arrested. Martsinkevich's anti-gay actions have been replicated by others in Russia, increasing the danger posed to LGBT Russians. 
Martsinkevich and "Occupy Paedophilia" became notorious for luring gay men and teens to meet them under the pretense of a sexual rendezvous only to torture them and post degrading videos of the attacks on social media.
Watch a disturbing and graphic report on Martsinkevich and his anti-gay group, AFTER THE JUMP…