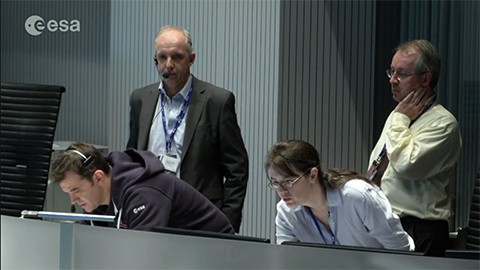 As we reported yesterday, the European Space Agency (ESA) is today attempting to land for the first time a probe on a comet. The AP reports:
Hundreds of millions of miles from Earth, a speeding European spacecraft released a lander toward the icy, dusty surface of a comet on Wednesday, setting off a seven-hour countdown to an audacious attempt to answer some of the biggest questions about the origin of the universe.
A landing would cap a 6.4 billion-kilometer (4 billion-mile) journey by the European Space Agency's Rosettaspacecraft, launched a decade ago to study the 4-kilometer-wide (2.5-mile-wide) 67P/Churyumov-Gerasimenkocomet. If successful, the Philae lander would be the first spacecraft to land on a comet.
The probe is scheduled to land approximately 11:03 AM EST but the livestream of the control room at ESA is already underway.
Make sure to check it out, AFTER THE JUMP… (Warning: auto-play)