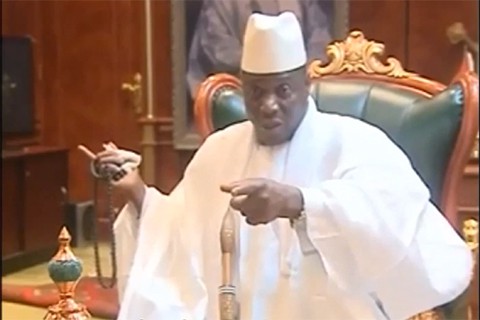 Gambia's leader Yahya Jammed signed a bill into law that would imprison citizens for homosexual acts, the AP has revealed:
It criminalizes "aggravated homosexuality," which targets "serial offenders" and people living with HIV or AIDS. Suspects can also be charged with aggravated homosexuality for engaging in homosexual acts with someone who is under 18, disabled or who has been drugged. The term also applies when the suspect is the parent or guardian of the other person or is "in authority over" him or her.
People found guilty of aggravated homosexuality can be sentenced to life in prison.
The revelation comes amidst a new crackdown on gays in the country this month.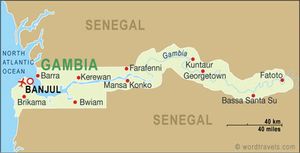 Amnesty International reported this week:
Since 7 November, state forces have launched a homosexuality investigation, leading to at least eight arrests.
Four men plus one 17-year-old boy were arrested by the National Intelligence Agency and Presidential Guards in Banjul, the capital city, under investigation for crimes of homosexuality. They are being held in a secret location without access to a lawyer, and are at high risk of being tortured. By holding the men in detention for more than three days without charging or releasing them, state forces are breaking the law according to Gambia's constitution.
Three women were also arrested in Banjul on 13 November. They said they were beaten in detention and threatened with rape by security forces. The women have now been released, but the police kept their identity cards and banned them from travelling.
All detainees, male and female, were told that if they did not 'confess' to the charges of homosexuality, a device would forced into their anus or vagina to 'test' their sexual orientation.
State forces are reportedly collecting a list of names for future arrest. Other men and women managed to escape the forces' interrogation as friends and relatives gave them advance warning that security forces would be targeting them.
"They are making a list," said Amnesty International's François Patuel. "This is a very well organized operation."
Fatou Camara said she had spoken to sources with the intelligence service that said 200 people alleged to be LGBT had been identified, but this could not be independently confirmed.
Theresa said she and her best friend, who asked to be identified only as Youngesp, fled to the Senegalese capital Dakar around three weeks ago. A friend who works on the police force tipped them off, telling them, "you guys have to leave the country because they are coming to arrest you." They left at 4:00 AM the next morning.