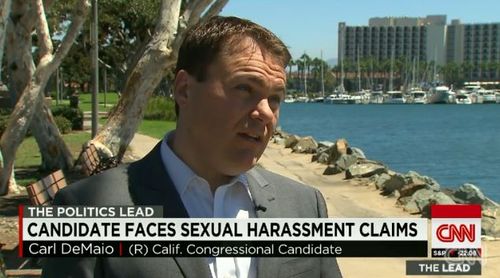 A second former staffer for Republican Carl DeMaio has come forward accusing the openly gay congressional candidate of sexual harassment, KPBS reports:
Navy veteran Justin Harper, 25, said he began interning with DeMaio's campaign in February and was hired as a regional political director a month later. His job was to make phone calls and knock on doors to ask voters for their support.
Harper said he quit on July 12, two days after an incident involving DeMaio in a restroom at campaign headquarters. […]
"I was at the urinal, and (DeMaio) came from the stall that was closest to the urinal and was kind of just standing there hovering," Harper said. "I turned around and realized that it was Carl. He had his pants up, but his fly was undone, and he had his hand grasping his genitals."
Harper said DeMaio didn't say anything to him, and he didn't say anything to DeMaio.
"I just walked out. I didn't say anything to him, I just left," Harper said.
Responding to the allegations, DeMaio's campaign spokesman released the following statement:
"Reporters with journalistic integrity have dismissed these false smears because they've been peddled by the same people fired from the campaign months ago – and the District Attorney dismissed these false allegations weeks ago. KPBS is reckless in reporting this outrageous lie because our office has not even had a urinal to use – a fact confirmed to KPBS by our landlord."
The station adds Harper claims the urinal was not broken at the time of the incident and that a receptionist for a separate business in the office complex says the urinal is not currently broken. Additionally, the station reports the landlord for the office complex has contributed nearly $4,000 to DeMaio's campaign. 
For a run down on the story of the first former campaign staffer to come forward with similar allegations, check out our post here.