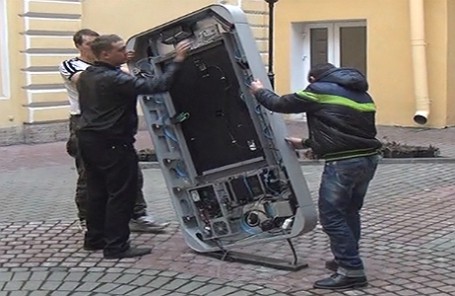 In St. Petersburg, Russia, a memorial to the late Apple founder Steve Jobs which resembled a giant iPhone with a large screening and a QR code on the back has been taken down by ZEFS, the company which funded its erection in 2013, Business Insider reports:
Speaking in a press release sent to Russian media outlets, ZEFS chairman Maxim Dolgopolov explained that the memorial was torn down for two reasons: Tim Cook coming out as gay and Edward Snowden's revelations about NSA spying. (Snowden's documents suggest Apple products were used by the NSA to conduct surveillance.) He didn't rule out reinstalling the memorial, however, but said that it would only return if it could be modified to instruct Russian citizens to use products from companies other than Apple.
Apparently the Snowden revelations didn't warrant the monument's removal on their own since they happened months ago. ZEFS Chief Maxim Dolgopolov told Business FM Radio that because Apple CEO Tim Cook came out as gay, the monument now violates Russia's law banning gay "propaganda" to minors. He also urged users to switch to computer products that are not subject to surveillance (good luck).
Watch a video of the monument's unveiling in 2013, AFTER THE JUMP…