The 10th Circuit Court of Appeals has denied Kansas' request for a stay on U.S. District Judge Daniel Crabtree's ruling earlier this week striking down the state's ban on gay marriage. 
Buzzfeed reports: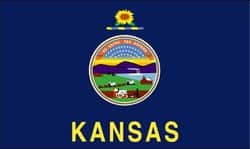 Absent Supreme Court action in the coming days, a trial court ruling from earlier this week finding that Kansas' ban on same-sex couples' marriages is unconstitutional will go into effect at 5 p.m. Nov. 11. […]
Judges Carlos Lucero and Robert Bacharach issued the order denying Kansas' request for a longer stay, writing, "We conclude that defendants have failed to make the showings necessary to obtain a stay, and we deny the emergency motion for a stay pending appeal."
Kansas remains the only state in the Tenth Circuit without marriage equality.