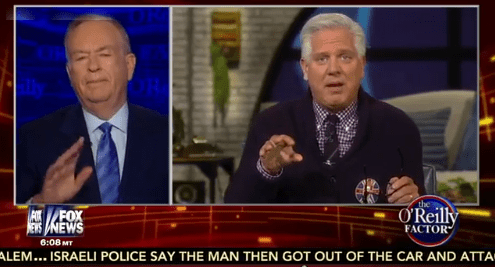 In a discussion on post-election politics with Bill O'Reilly the other day, Glenn Beck (in a rare moment of semi-lucidity) said Republicans would be wise to not pursue impeachment hearings against President Obama over immigration policy.
Said Beck:
They are going to do to illegals what they did to the debate on gay marriage. On gay marriage they made it about marriage and gay people. Instead, the argument should have been "Does government have a role in anybody's marriage?" But what they did is they personalized it so people said "I know I guy like Bob, he's fine!" They're going to do the same thing with illegal immigration and the Republican will lose that battle. 
O'Reilly, as always, disagreed – saying the two issues were unrelated and that the Republicans would win the immigration debate regardless.
Watch the segment, AFTER THE JUMP…
[via Crooks and Liars]