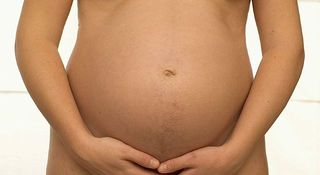 Obstetrics and Gynecology has published the findings of a study looking into the lives of transgender men who make the decision to have children post-transition. The self reporting participants of the study shed light on the experience of being pregnant as a publically male-presenting man, the data for which is exceedingly rare.
"Pregnancy and childbirth were very male experiences for me," one 29-year old participant reported. "When I birthed my children, I was born into fatherhood."
The study was first conceptualized by Alexis Light, a first year OB/GYN resident at Washington, D.C.'s Washington Hospital Center. Light found herself repeatedly unable to field questions from transgender men interested in becoming pregnant who had questions about the safety of continued hormone use.
"My friends were asking me be if they should delay starting testosterone if they had an interest in maintaining future fertility," Light said explained to NPR.
Light approached  Dr. Jennifer Kearns, an assistant professor of reproductive sciences at the  University of California, San Francisco with the idea to design a survey that would aggregate the experience of transmen who had successfully conceived and carried babies to term.
The lack of insight into the population of pregnant transmen, Kearns explained, was due mostly to the fact that many transmen felt unconnected to their healthcare providers.
"They just feel a lot of isolation from the healthcare community," she explained. "And we have some indication from our qualitative results that depression might be exacerbated for folks who are transgender, both during pregnancy and after."