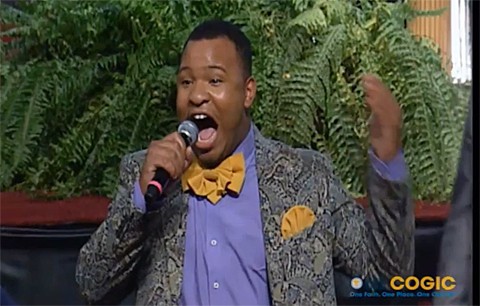 The International Business Times reports that Andrew Caldwell, the "not gay no more" young man from the viral megachurch video, has written a response via Facebook.
Ha addresses his criticism — the widespread doubt that Caldwell had actually been "turned straight," but also the suggestion that Caldwell staged the moment for publicity.
Here's an excerpt of the statement:
As a child, I was raped by a member of my own family. At that time I did not think of it as abuse. I kind of enjoyed it. I kept it to myself, not realizing how it had changed me. Growing up wasn't a pleasant experience. I was harassed, heckled, and ridiculed by classmates…After joining my present church, it came to me that this lifestyle was not right. It seemed that the more I tried to quit on my own, the more intense was the temptation. All last week I fasted and prayed. On this past Saturday at the Convocation, there was an alter call. I came forward and offered my testimony. It was unscripted.
If you are quick to mock Caldwell, or if the story is leaving a bad taste in your mouth, be sure to check out BET Entertainment Editor Clay Cane's take, over at HuffPo. It's an empathetic and sensitive reminder that in discussing this issue, we should use care. Says Cane:
I hope this boy is on suicide watch. The way he is being shamed in the public [and] in that church is heartbreaking to see…The bishop said he chose to do this. No he didn't. When you're brainwashed you're not choosing anything…He's doing what he thinks will make him feel loved and accepted in his community. The funny thing is, people are mocking it… but if he were 'more masculine,' people would take it seriously.
Caldwell's "conversion" took place at the Church of God in Christ's 107th's Holy Convocation in St. Louis, Missouri. In a statement posted online, COGIC responded to the viral video:
We believe that we should reflect the love and compassion of our Lord and Savior Jesus Christ in all that we do. We do not in any way compromise our biblical position against same sex unions or in favor of biblical teaching on matters of sexual conduct. At the same time we expect that our clergy and laity will be civil and considerate as they speak to men and women regarding issues related to our Christian faith. We love all people, regardless of their faith or moral standards. When we fail to express ourselves with love and humility we contradict our witness
to the world.
Furthermore, the Church of God in Christ wholly condemns acts of violence against and the subjugation of any person to verbal or physical harassment on the basis of their sexual stance. Such actions violate entirely the Christian's obligation to love our neighbor as we love ourselves.
The Church of God in Christ will have no further comment on this matter.
Video from HuffPo, including Cane's take is AFTER THE JUMP…
Caldwell also briefly spoke to Atlanta's CBS 46 News about the video and his "conversion," which you can check out after the jump as well.
Cane's segment starts at 29:00. The video also includes an interview with the bishop, near the beginning.