The FDA's longstanding policy of banning men who have sex with men (MSMs) from giving blood due to HIV transmission concerns may be on its way out the door after a U.S. advisory panel recommended for the first time that the 31-year ban be partially lifted. 
Bloomberg reports: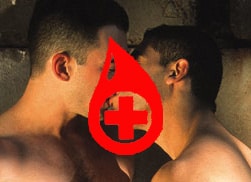 Doctors and blood-donation advocates who advise the U.S. Department of Health and Human Services voted 16-2 today to suggest that men who have had sex with men should be able to give blood after being abstinent for one year. Their recommendation will be considered by a group of advisers to the Food and Drug Administration in a Dec. 2 meeting. While the FDA doesn't have to follow either panel's advice, their recommendations are considered influential.
"The system, in my mind, has been very successful, in part, I believe, because the public has trust in the system and the decisions we make," said Jay Menitove, chairman of the advisory group that met today. "To maintain that trust and compliance on the part of the public, it is time to modernize."
The Human Rights Campaign reacts:
"This recommendation — although nominally better than the existing policy — falls far short because it continues to stigmatize gay and bisexual men, preventing them from donating life-saving blood based solely on their sexual orientation," said David Stacy, HRC's Government Affairs Director. "The current policy, adopted in the earliest days of the HIV/AIDS epidemic, and the new recommendation are both simply wrong and can no longer be justified in light of scientific research and updated blood screening technology. It's far past time for this stigma to end."
The American Red Cross supports the proposal, which mirrors similar 12-month deferral policies that have been implemented in the United Kingdom, Australia, and Canada.