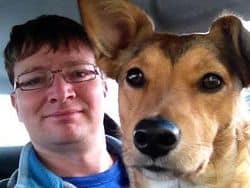 John Wright, an award-winning freelance journalist who lives in Austin, is the publisher of Lone Star Q, Texas' Statewide LGBT News Source.
Wright previously served as senior editor of the LGBT newspaper Dallas Voice and has worked as a news reporter and editor for several mainstream publications.
Wright graduated from the University of Florida with a degree in journalism. He and his partner, Donald M. Christie III, are the proud fathers of a corgi-dachshund mix (they think) named Balynn (shown).
Follow Wright on Twitter @lsqnews.