Gay couples in South Carolina are prepared to begin marrying on Thursday at noon, which is when the stay in U.S. District Judge Richard Gergel's ruling striking down the state's gay marriage ban expires.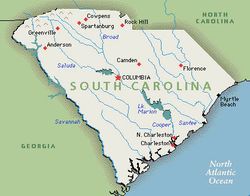 Last week after Gergel struck down the ban, Attorney General Alan Wilson filed an emergency stay request asking for the court's order to be halted pending an appeal to the full Fourth Circuit, or, if denied, the U.S. Supreme Court.
Attorneys for plaintiffs Colleen Condon and her fiancee Nichols Bleckley filed their response to Wilson's request late Sunday, The Post and Courier reports:
"Currently 34 states permit same-sex couples to marry, or recognize marriages legally celebrated by same-sex couples in other states. If history is any indicator, the State's claim of potential harm here is overstated, if not completely contrived," the new filings says.
Malissa Burnette, lead attorney in Condon's case, has said she feels very optimistic the Fourth Circuit will uphold Gergel's ruling. It is the same court that struck down Virginia's constitutional gay marriage ban and was among those that triggered the recent cascade of legalized same-sex marriage across the nation.
The Fourth Circuit could rule on Wilson's request for an emergency stay at any time.
SCOTUS has also already turned down an appeal request from Virginia in its marriage case, and all the other states in the Fourth Circuit have marriage equality, so it would be a strange and troubling move for the Court to grant Wilson's request.