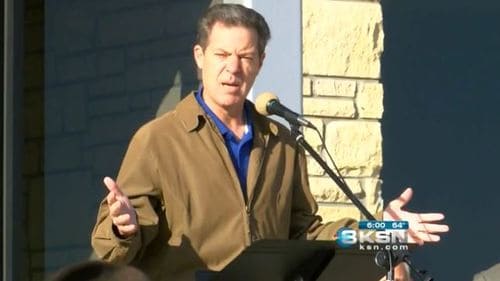 Despite the Supreme Court denying Kansas' request for a stay on a lower court ruling striking down the state's gay marriage ban yesterday, Governor Sam Brownback has said he will continue defending the state's ban, the Associated Press reports:
After the U.S. Supreme Court ruling, the governor issued a statement saying he took an oath to support the state constitution.
He added that he would review the decision and consult with state Attorney General Derek Schmidt on "how best we continue those efforts."
In related news, marriage equality remains in limbo in Kansas: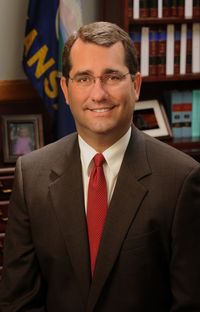 Schmidt [right] says that decision applies only in Douglas, a northeastern Kansas county, and Sedgwick, in south-central Kansas, where the court clerks are defendants. The American Civil Liberties Union contends the ruling applies in all 105 counties.
The legal situation in Kansas is complicated by another case before the Kansas Supreme Court, which Schmidt filed last month. He persuaded the Kansas court to block marriage licenses for same-sex couples, at least while his case is heard.
Marriage licenses in Kansas are issued by district court clerks' offices after a mandatory three-day wait. In Johnson County, Court Clerk Sandra McCurdy said about 70 applications from same-sex couples are pending.
"Until I hear something from the Kansas Supreme Court, I'm not issuing any marriage licenses," McCurdy said.
Carl Tobias, a University of Richmond, Virginia, law professor, said other clerks are likely to react the same way "out of an abundance of caution."