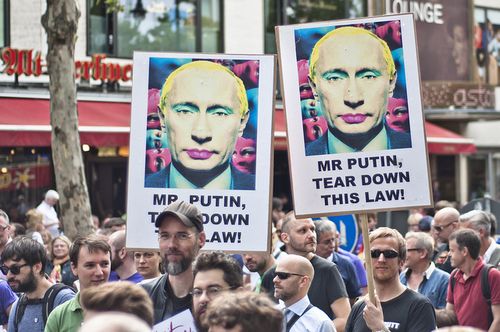 There has been a steady uptick of gay Russians seeking asylum here in the U.S. in light of increasing anti LGBT-sentiment in Russia. Facing extreme persecution and harassment in their home country, many queer Russians are faced with a difficult choice living under constant threat of physical harm or relocating to a country with which they have little to no relationship. While the U.S. can act as a pseudo-safe haven, those Russians that do decide to flee to the U.S. are often presented with a new set of economic problems.
Andrew Nasonov, a former journalist, fled to the U.S. with his now husband Igor Bazilevsky earlier this summer. Though the couple was able to legally marry after moving to Washington, D.C., staying financially stable and independent has proven to be difficult.
"It was hard to leave our relatives, friends, and parents behind in Russia," Nasonov explained to the Associated Press. "We have nothing here, and in many ways are completely dependent on the assistance of the people who surround us."
While the United States will offer LGBT-identified individuals asylum, the government will not yet classify those granted asylum refugee status, which makes the official immigration process tough to navigate.
"There's no worse way to immigrate to the U.S. than the way these people are doing it," said Russian-American journalist and LGBT activist Masha Gessen. "You have nothing, and you have no right to work or public assistance. We've seen people end up on the streets."
Since 2012 the number of applications for asylum from queer Russians has increased by 34 percent according to the Department of Defense. While the U.S. is one of the more receptive western nations when it comes to granting asylum to endangered populations, each applicant is required to document and prove their circumstance on a case by case basis.
"It makes no sense because most of our arrivals have advanced degrees and speak good English," said Russian asylum advocate Larry Poltavtsev. "They're capable of being productive, paying taxes, but we are not letting them do those things while they're waiting."