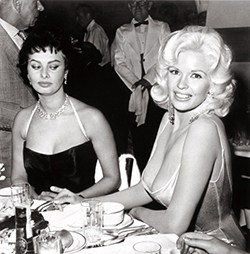 Taylor Swift is breaking some serious music records.

Brandon Routh brings his shirtless self to TV tonight.

Sophia Loren explains her infamous side-eye shade directed at Jayne Mansfield: "In my face you can see the fear. I'm so frightened that everything in her dress is going to blow—BOOM!—and spill all over the table. There may be other photos, but this is the picture. This is the one that shows how it was. This is the only picture."

Have you met Alex from Target?

Entertainment Weekly reunites the casts of Mean Girls, Ghostbusters.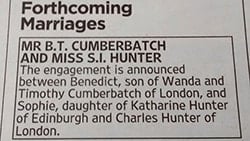 Benedict Cumberbatch is engaged. Announces it in very English way. 

Magic Mike XXL is officially wrapped.

Happy Britney Day!

Popular Bollywood actor Aamir Khan issued legal notice for promoting homosexuality on his TV show: "A court in Chandigarh issued a legal notice to the Bollywood actor, requesting his response by December 19 on the petition which was admitted by advocate Mandeep Kaur. The court of civil judge Jaswinder Singh accepted the petition on Friday, October 31, reports Firstpost."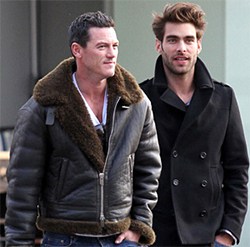 Virgin Galactic pilot defied the odds to survive as the rocket plane disintegrated around him: "Siebold managed to deploy his parachute and land in the Mojave Desert. His shoulder was smashed and a fellow pilot described him as "pretty banged up." He was discharged from the hospital Monday. "The fact that he survived a descent of 50,000 feet is pretty amazing," said Paul Tackabury, a veteran test pilot who sat on the board of directors of Scaled Composites until it was sold to Northrop Grumman Corp. "You don't just jump out of aircraft at Mach 1 at over 50,000 feet without a spacesuit." Siebold's partner, 39-year-old copilot Michael Alsbury, was found dead, strapped into his seat in the wreckage."

Luke Evans steps out with rumored boyfriend.