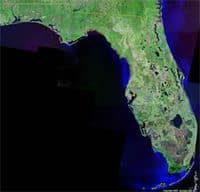 In August, Judge Robert Hinkle became the first federal judge to rule Flordia's voter-approved ban on same-sex marriage unconstitutional. However, Hinkle also issued a stay of his ruling, preventing it from going into effect. Judge Hinkle has today announced that he will not lift his stay before it is set to expire on January 5. The AP reports:
Attorney General Pam Bondi is seeking a review of the decision by the Atlanta-based 11th U.S. Circuit Court of Appeals. Gay marriage proponents had asked Hinkle to lift the stay, which would have allowed gay marriages to begin despite the appeal.
"This would leave the 11th Circuit insufficient time to make a considered judgment on whether the stay should remain in place and thus would be inconsistent with the public interest in implementing just once the constitutional decision on same-sex marriage in Florida," Hinkle wrote. […]
Hinkle also denied Bondi's request to leave the stay in place as long as the 11th Circuit is considering Florida's appeal, setting instead the January deadline. The judge said that would mean unnecessary delay, especially considering "the unbroken line of circuit decisions striking down bans on same-sex marriage."
"No circuit that has decided the same-sex marriage issue on the merits has stayed its ruling," the judge added.