With 100% reporting, out gay Rep. Sean Patrick Maloney appears to have defeated GOP challenger Nan Hayworth in his contentious 18th District House race.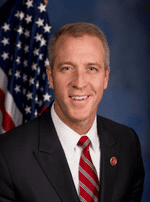 Maloney has 49.6% of the vote and Hayworth 48.0%.
Maloney has declared victory but Hayworth is not conceding with a difference of 1, 744 votes between them, The Hill reports:
In a statement, Maloney congratulated Hayworth "on a hard fought campaign" and vowed to reach across the aisle in search of common victories.
"We have fought this campaign as Democrats and Republicans but we must end it as Americans, proud of our common country and committed to put aide our partisan differences and work for the good of all," he said.
But Hayworth spokesman Terence Michos said in a statement that the race is "too close to call."
"The race is too close to call and the ballots have been impounded as the Maloney campaign requested over the weekend. They knew the race was incredibly close, and we agree," Michos said.
The AP has yet to call the race.