FIFA's decision to allow Qatar to host the 2022 World Cup has been an ongoing point of contention for those concerned with the country's record on a variety of human rights (workers' rights, LGBT rights, etc.). Homosexuality remains illegal in the Middle Eastern country and Muslims can be put to death for extramarital sex under Sharia law. 
In a recent interview with The Associated Press, Qatar's sports minister Salah bin Ghanem bin Nasser al-Ali attempted to address some of the criticisms aimed at his country. In addition to promising labor reforms in the coming months, al-Ali pledged to find "creative" solutions to things like alcohol consumption and homosexuality during the upcoming games.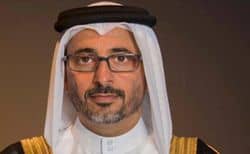 For now, alcohol is only sold in selected Doha hotels and visitors must show their passports to enter these bars. Residents with a license to shop there can also buy alcohol in a government-run store. But World Cup organizer FIFA has a sponsorship deal with a brewer and it leaned on Brazil, the last tournament host, to allow beer sales in its 2014 World Cup stadiums. Asked specifically about alcohol in 2022 stadiums, the minister offered no guarantee.
"In the hotels and many areas we have alcohol but we have also our own system that people need to respect," he said. "As we bid for 2022, we will respect all the rules and regulations by FIFA. We can study this and minimize the impact on our people and tradition. I think we can be creative, finding solutions for all of this. But we respect all the rules and regulations."
– Asked how gay people will be welcomed in 2022, al-Ali replied: "It's exactly like the alcohol question."
He said Qatar doesn't want to create "this impression, illusion that we don't care about our tradition and our ethical values … We are studying all these issues. We can adapt, we can be creative to have people coming and enjoying the games without losing the essence of our culture and respecting the preference of the people coming here. I think there is a lot we can do."
Back in 2010, FIFA President Sepp Blatter sparked a firestorm when he joked gay people should "refrain from sexual activity" during the 2022 World Cup in Qatar. 
Previously, "John Oliver Slams Qatar's Selection as World Cup Host by 'Comically Grotesque' FIFA: VIDEO" [tlrd]