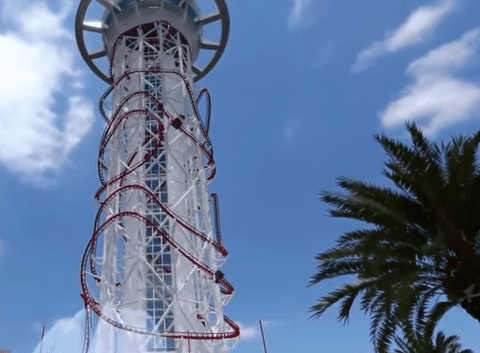 A record-setting roller coaster is set to be built in Orlando, reaching a height of 570 feet. The announcement comes from the developers of Skyplex, a mall/entertainment complex set to start construction in 2015 with completion in 2017. The Skyscraper coaster will circle up the sides of the tower in a corkscrew pattern and then wind its way down in a ride filled with twists, turns, and gasp-inducing views.
"Skyscraper will not only take riders higher than ever before, but also introduce one thrill right after the next – there's no 'down time' on this four-minute coaster experience," said Michael Kitchen, president of US Thrill Rides in a report in today's Orlando Sentinel. "It is an absolute cutting-edge engineering marvel that will deliver pure adrenaline unlike any roller coaster in the world today."
Despite the world record height, coaster purists might quibble that the ride does not drop riders 500 plus feet straight down or break any speed records like other hypercoaters that have popped up in the amusement "arms race". But given the stunning views seen in a new POV video released by the developers today, it does not look like a ride for the faint of heart. For those seeking the view without the heart attack, there is also an elevator that will take less-adventurous folks to a viewing platform at 535 feet.
You can watch the full hair-raising ride AFTER THE JUMP…