South Carolina's Governor Nikki Haley and Attorney General Alan Wilson filed a brief late Monday asking a federal judge to oppose a request for an injunction that would strike down the state's ban on gay marriage. The case was brought by Charleston County Councilwoman Colleen Condon and her partner, Nichols Bleckley, the Post and Courier reports: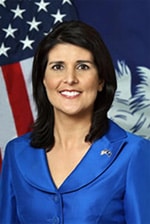 Bleckley and Condon filed the lawsuit seeking to marry following the U.S. Supreme Court's Oct. 6 refusal to review an appellate case overturning Virginia's gay marriage ban. The couple requested U.S. District Judge Richard Gergel issue a preliminary injunction prohibiting state officials from enforcing the state's constitutional ban on same-sex marriage.
However, a preliminary injunction is an "extraordinary and drastic remedy" designed to avoid "irreparable harm," which attorneys for Haley and Wilson contend hasn't been proven.
If Gergel grants the injunction, the defendants want him to issue a stay while they appeal to the U.S. Court of Appeals for the Fourth Circuit. "The window should not be opened on same-sex marriages at the substantial risk of closure again should the Defendants' appeal be successful," the brief says.
Gergel could rule anytime after Wednesday, the deadline for a response from lawyers for Condon and Bleckley.
Haley and Wilson are both making re-election bids in today's election.