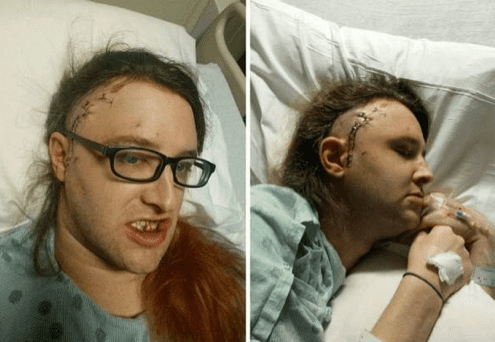 Toledo's Mercy St. Vincent Medical Center released 33-year-old transgender Ohio resident Candice Rose Milligan Thursday after a brutal midday attack from three men left her with a broken mandible and head injuries. Milligan, a prominent transgender activist, underwent two surgeries and had her jaw wired shut; she is currently heavily medicated. Milligan was walking 13th Street and Madison Avenue when the three men accosted her on Monday afternoon.
Ms. Milligan was walking on Madison when three men approached her, made derogatory comments, and then one of the men punched Ms. Milligan in the face, mouth, and head, according to a Toledo police report. Once Ms. Milligan was on the ground, the other men kicked and punched her. One of them grabbed a cell phone from Ms. Milligan's hand and then fled.
Police said they arrived to find Ms. Milligan with a large bump on her forehead and her mouth bleeding. Nearby witnesses were able to provide police with vague suspect descriptions.
Toledo police have arrested and charged 20-year-old Christopher Temple with robbery, attempt to inflict, or threaten serious physical harm on another; Temple has yet to divulge the names of the other two associated with the attack.
The National LGBTQ Task Force Action Fund issued a statement on Thursday calling for statewide nondiscrimination protections for lesbian, gay, bisexual, transgender, and queer people. 
Said Rev. Darlene Nipper, the deputy executive director for the National LGBTQ Task Force Action Fund,  in a statement:
"We are outraged with the continued anti-transgender violence taking place across the country. The recent brutal attack against a transgender community activist underscores the need for strong nondiscrimination laws to prevent violent anti-LGBTQ hate crimes. Our thoughts and prayers are with Candice, her friends, and family. We hope for a quick and healthy recovery. We will continue to monitor the situation in Toledo as we call on the local authorities to use every tool in their power to bring justice to Candice and the transgender community."
The
Blade
also reports that Toledo Councilman Jack Ford is calling for an immediate amendment
to Ohio's hate crime laws to include gender identity and expression as a protected class after Milligan's attack. A bill that will amend the current law to include these protections, House Bill 300, is currently pending in the the state legislature, but has only received a single hearing on the floor thus far. Ford and three fellow councilmen are calling for the U.S. Justice Department to conduct an official investigation on the attack.