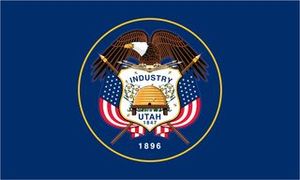 The state of Utah has agreed to cover the attorney's feed for the four couples represented in Evans v. Utah, a case seeking spousal benefits for same sex married couples in the state. Earlier this week, U.S. District Judge Dale Kimball signed an order stating that Utah would pay $95,000 worth of attorneys fees owed by the lawsuit's eight plaintiffs. Additionally, Kimball made permanent the previously temporary injunction against Utah's gay marriage ban, effectively legalizing same sex unions in the state.
U.S. District Judge Robert Shelby ruled Utah's ban on same sex marriage unconstitutional in 2013, but the ruling was quickly stayed following an appeal by the state. Attorneys representing Evans v. Utah's plaintiffs sought nearly $200,000 from the state, according to individual filings to both U.S. District court and the appeals court.
In an email to The Salt Lake Tribune, ACLU spokesman John Mejia expressed the agency's support of Kimball's decision to make the injunction permanent. Rather than commenting on the order, Missy Larsen, spokeswoman for Utah Attorney General's Office stated that the decision spoke for itself.