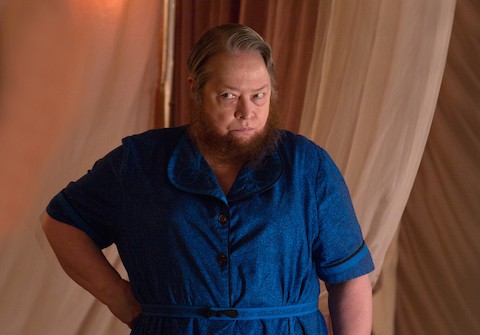 Welcome back! After a short hiatus, American Horror Story: Freak Show has returned, and tonight's episode made up for lost time by bidding adieu to a couple major characters. (And showing more skin from Finn Wittrock.)
Find out which characters bit the dust in tonight's real mother of an episode, AFTER THE JUMP …
Poor, sweet, Ma Petite (Jyoti Amge). The performers have figured out their littlest comrade has gone missing, and they're combing the grounds looking for her. They fail to find the body — which Stanley (Denis O'Hare) already sold to the oddities museum — but they do find the bloody clothes planted by Stanley or maybe Dell (Michael Chiklis). So, as planned, everyone thinks she was murdered by a coyote or some such.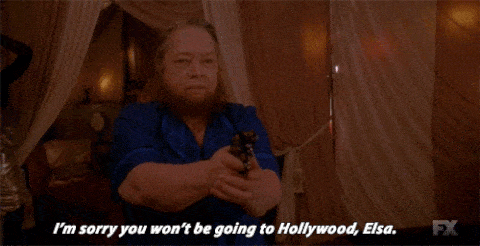 Well, everyone but Ethel (Kathy Bates). After eavesdropping on Elsa (Jessica Lange) and Stanley casually discussing murdering the twins during the last episode, Ethel has Elsa pegged for a murderess. Ethel went ahead and sent the twins to safety, but when she confronts Elsa, Ms. Mars swears it was just a poor choice of words. She wouldn't hurt her children! Then Ethel fires a shot right into Elsa's wooden leg, much to the bearded lady's surprise. Her two-legged cover blown, Elsa launches into a lengthy piece of exposition on the doctor (Danny Huston) who lovingly crafted her wooden gams.
Maybe she thought it would inspire Ethel to feel a little "Frauleins: They're just like us!" but, no, Ethel has her mind set on killing Elsa. And maybe killing everyone else, before finally killing herself. Once Elsa is convinced there's no dissuading Ethel, she stops trying to stop her and just asks for one last drink. When she gets to the bar, she spins around and sends a knife right through Ethel's eye. R.I.P., Ethel! Your accent was awful, but you really committed to no-shave November.
Now Elsa's got a dead bearded lady burning in her pocket. Naturally, she turns to Stanley for help. He helps her stage a particularly gruesome faux suicide involving some metal chains, a speeding car and a tree. The result is quite a scene, with Ethel's head popping clear off. Maggie/Esmerelda (Emma Roberts) is the one to find her and break the news to Jimmy. Elsa does some real convincing wailing, but Ethel's death hits Jimmy (Evan Peters) hardest.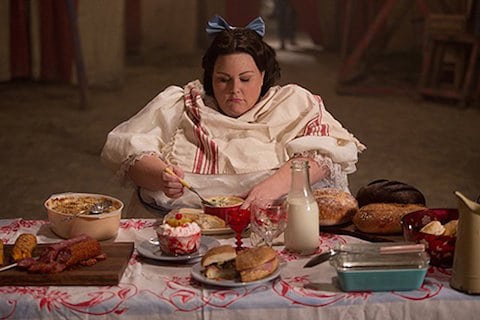 While Jimmy tries to find the answer to his heartache at the bottom of a bottle, Elsa needs to find a replacement act. She heads down to Miami to a weight loss camp. Standing at the vibrating exercise machine (you know, that old thing with the band that jiggles your jiggly — may I call you jiggly? — to help you lose weight) she finds a large woman named Barbara (Chrissy Metz). She convinces her to join the show and rechristens her Ima Wiggle.
Drunk Jimmy keeps on drinking until Maggie has enough. She fell in love with a leader, not a lush. Despondent, he seeks solace in Ima's bountiful bosom.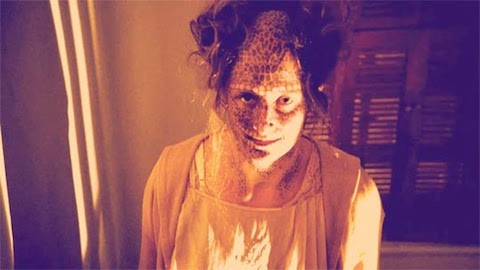 Ethel's death had another interesting effect. It inspired some of the women on campus — Desiree (Angela Bassett), Amazon Eve (Erika Ervin) and Legless Suzi (Rose Siggins) — to help Penny (Grace Gummer) get some revenge. They break into her father's house and kidnap him back to Dell and Desiree's old trailer. It gets a little hazy for me here, because her dad (Lee Tergesen) is in his underwear and, I know we're supposed to hate him, but he's sort of a babe?
Take it in while you can, boys, because they tar and feather him before threatening to cut off his schwanz and throw the rest to the gators. Of course, even hot dads don't get tarred and feathered quietly, so all his shrieking attracts the attention of Maggie, who comes in and convinces Penny to spare his life because blah blah blah don't let him turn you into a real monster blah blah then he'll win blah. You know the drill. I wonder if that moment of humanity will come back to haunt the Astounding Lizard Girl down the road …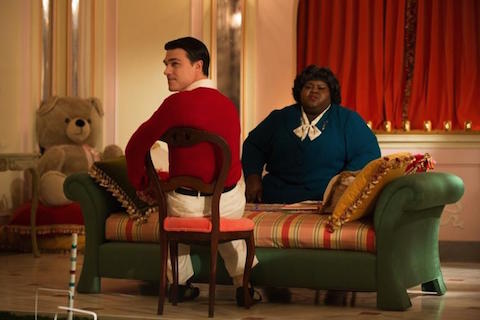 Meanwhile, poor Gloria Mott (Frances Conroy) is not at all well. She's very distraught over Dandy (Wittrock). She tells her therapist about her concerns (without mentioning all that business about slitting Patti LaBelle's throat or coming home bloody in briefs). She recalls the way he murdered a cat as a young boy and how he befriended the gardener's young son, only to have the boy mysteriously disappear. Those are enough red flags for the shrink to strongly recommend Dandy come in for some treatment, which Gloria quickly reminds him Dandy would never go for. Maybe they can trick him!
They tell him he's being tested for a genius IQ, only to have him fail a Rorschach test terribly, seeing only stabbings and blood and guts and more stabbing in the ink blots. When the doc tips his hand by asking to see Dandy twice a week, the young Mott understands what's happening. However, if his goal is to talk to less shrinks, he probably shouldn't have started talking about reading about tribes in National Geographic that eat their enemies to absorb their power. Obviously though, Dandy's got to keep that tight little body snatched, so he's curious if, instead of wasting his daily calorie count on eating his victims, he could just soak in their blood. It's great for the pores.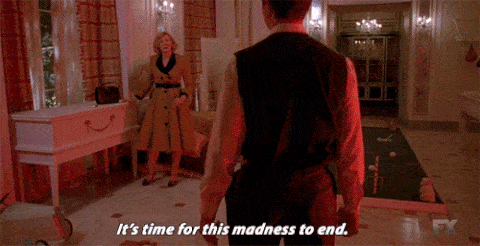 When he gets home from the doc, he walks in on his mom trimming the Christmas tree. He's not happy that he was tricked, but he's willing to make a deal. He'll happily visit with the doctor for a month if his mother would so kind as to murder Patti LaBelle's nosey daughter, Regina (Gabourey Sidibe). Regina has been snooping around and asking about the whereabouts of Patti LaBelle, and, if Patti LaBelle doesn't return home tomorrow, she's calling the cops. Once Dandy issues his ultimatum, he turns on the Christmas tree lights, bathing Gloria in red because FORESHADOWING.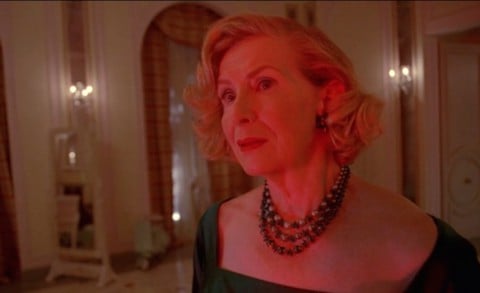 Panicked, Gloria calls the doctor to tell him not to worry, because she and Dandy are going to Europe for a while. No need to worry/commit Dandy, promise! When she hangs up, Dandy's waiting. He overheard her call him fragile. He tells her that Patti LaBelle told him how Gloria was so desperate to maintain her lifestyle after her father lost everything in the stock market crash that she married her second cousin, even though she knew he was already crazy and the incest would only double-down on the insanity.
Gloria tells Dandy that he's the love of her life, but she has no more love to give. She goes to get the small, gold handgun out of her purse, but whoopsie! Dandy's got it. He holds the gun to his temple, but she begs him not to kill himself. Oh, fine! So he shoots her instead and then later lowers himself into a bathtub full of her blood. R.I.P., Gloria. You made so many terrible decisions!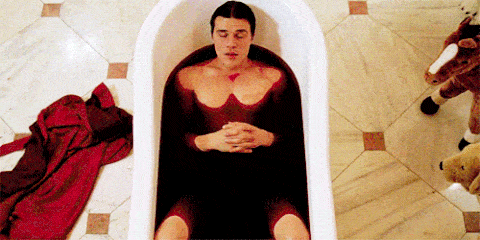 There was much ado about mothers in tonight's episode, including lots of talk of Elsa's motherly role, how Ima hates her mother and Regina's search for her mother, Patti LaBelle. Then we have two of the Freak Show's most prominent mothers, Ethel and Gloria, meeting their end. And yet! It's Penny's father who is spared. What do you think the message is?
Also, if you're interested in seeing the too-hot-for-Towleroad gif of Dandy getting into the tub, you can check out here, but, warning, it's work-unfriendly (unless butts are welcome in your workplace).
What did you think of tonight's episode?