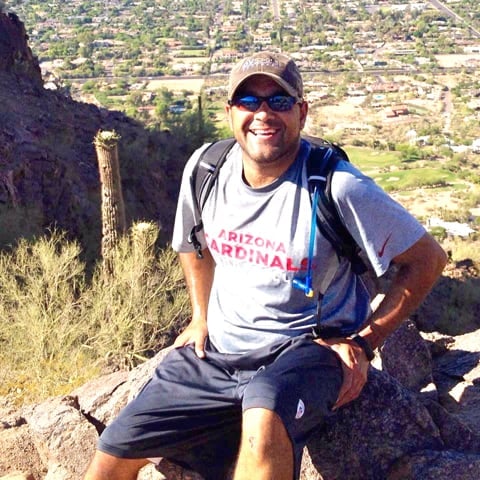 Rob Brakel, video director for the NFL's Arizona Cardinals, said the response has been overwhelmingly positive since he came out publicly as gay this week.
"Reception has been unreal," Brakel told Towleroad. "Couple players that know were awesome. The head coach, GM, and our owner Michael (Bidwill) have been nothing short of AMAZING. They have my back and are happy for me." 
But Brakel, who came out Wednesday in an interview with
OutSports
before the Cardinals' game against the St. Louis Rams on Thursday, also said that for him, the decision hasn't really sunk in yet.  
"Busy with game last night, flying back, went to bed at 4am and just woke up to phone going crazy," he told Towleroad on Friday. "I do need a few more hours of sleep but I have to get to work soon. In time I think it will be great for me." 
The Cardinals defeated the Rams and are atop the NFC at 11-3, adding to what Brakel called "the biggest year for me." 
Brakel, a 17-year veteran of NFL video crews, told OutSports he was inspired to come out publicly while reading gay MLS player Robbie Rogers'' book,
"Coming Out To Play,"
on the team plane Wednesday.
OutSports
reports: 
"I don't care anymore," Brakel said from his hotel room, the shaking coming through his voice over the phone. "Everyone around me knows who I am. I'm a guy who will give the shirt off his back to help you. I'll do whatever I can to help people. And I've had enough." … 

As Brakel read the book, the rest of the Cardinals filed past him on the plane. He knew some might look down and see his choice of reading material, but he didn't care. Not only was he engrossed in the story, many of them already knew or suspected he was gay.
Those who've known Brakel was gay include Cardinals head coach Bruce Ariens, to whom Brakel came out at the NFL combine as Michael Sam made his NFL debut earlier this year. And those who've suspected include star wide receiver Larry Fitzgerald, who did "the gay math" on Brakel. 
Brakel acknowledged it's tough being gay around the NFL, and he's thought about quitting at times.
A Twitter search for "gay" and "Cardinals" over the last few days shows exactly Brakel and others are up against — and why it's so important for them to come out.
@kurt13warner is so gay, you barely did anything with Cardinals compared to the Rams

— AiSosa (@aj_derosa) December 12, 2014
How is the team with the best record in the league underdogs against a under .500 team. I'm not buying it even though the cardinals are gay

— iLikeLockwoodDaily (@TLockwood2131) December 12, 2014
One more final and then I can watch my Rams smash the gay ass cardinals on Thursday night football 😎👌🐑

— Chase Domogsac (@Chasekeanuu) December 11, 2014