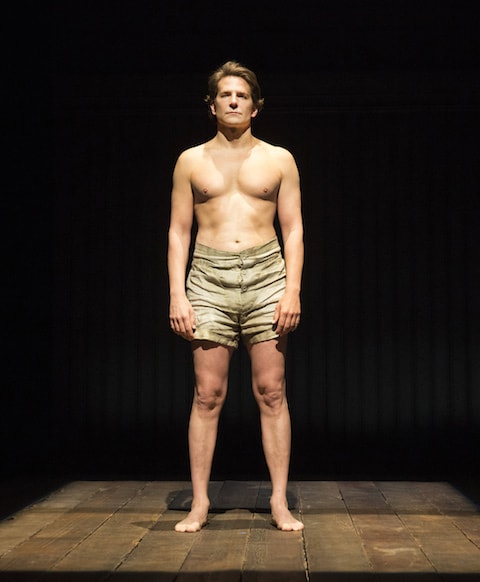 BY NAVEEN KUMAR
Make no mistake: The main attraction at the Booth Theatre, where a prosaic revival of Bernard Pomerance's 1977 drama The Elephant Man opened last night, isn't the freak-show headliner in the title, but the A-list name emblazoned above it in twinkling lights. They will flock from near and far, empty their wallets, step right up and see: Can the Hollywood hunk believably play a deformed half-man, half-beast? And deliver the high-octane performance required to mask the mediocrity of his chosen star vehicle? The answers are—well, sort of and no, not really.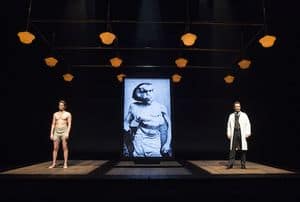 Bradley Cooper, last seen on Broadway opposite Julia Roberts in Three Days of Rain, certainly brings an impressive physical dedication to his performance as John Merrick. The character and his story are based on the life of Joseph Merrick, a man who lived with extreme deformities in the late 19th century. Pomerance's play follows the Elephant Man's ascent from circus aberration to high society marvel under the protection and guidance of Frederick Treves (Alessandro Nivola), a gifted and ambitious doctor.
We first encounter Merrick as a haunting outburst of grunts and gasps behind a freak-show curtain, before Cooper (notably shirtless for the first few scenes) appears next to a slideshow of real photographs of Joseph Merrick. As Mr. Nivola details Merrick's physical deformities, Cooper contorts his face and body into the warped shapes he firmly maintains through the rest of the play (the role is historically played without makeup or prosthetics).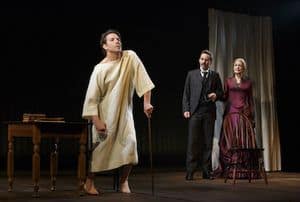 Thanks to these early visual aides and Cooper's bodily discipline, it's possible to imagine the very handsome Cooper as the extremely hideous Merrick—though, it's much easier not to. This is partly because the actor's looks and his celebrity are stacked against him, and partly because his performance doesn't overpower them. As his position in society improves, Merrick becomes increasingly curious, bright and charming—like a neglected child receiving his first welcome attention. But, too often Cooper voices his character much like an animated one, with a palpable detachment between his vocal delivery and Merrick's lurid personal history and singular circumstances.
As Mrs. Kendal, the actress who befriends Merrick and introduces him to London's upper crust, Patricia Clarkson is radiant and the production's indisputable highlight. With a riveting and sensitively rendered performance, Ms. Clarkson takes her character from a vain, preening bird to the play's emotional center. Her signature ease and reserved grace stand in marked contrast to Cooper's effortful portrayal and Nivola's bland turn as the impassioned doctor.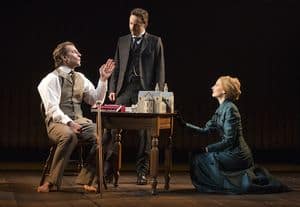 Pomerance's play, which also concerns itself with the clash between Christianity and modern science, is grounded in British colonial ideologies (i.e. the beastly Other must be saved! Cured! Civilized!). Though an integral context for Merrick's true story, the imperial entitlement on which the plot hangs is the real elephant in the room. Director Scott Ellis' production, while efficient and finely dressed (with beautiful costumes by Clint Ramos), hangs its hat on its star rather than offering a fresh take on stodgy material. 
Recent theatre reviews…
Hugh Jackman Goes Fishing for Love in 'The River' on Broadway: REVIEW
Maggie Gyllenhaal, Ewan McGregor, Cynthia Nixon Open in 'The Real Thing' on Broadway: REVIEW
Straight Couples Adrift on Fire Island in Terrence McNally's 'Lips Together, Teeth Apart': REVIEW
Josh Radnor, Gretchen Mol Open in Pulitzer Prize-Winning 'Disgraced' on Broadway: REVIEW
Matthew Broderick, Nathan Lane and Stockard Channing Open in 'It's Only a Play' on Broadway: REVIEW

Follow Naveen Kumar on Twitter: @Mr_NaveenKumar (photos: joan marcus)