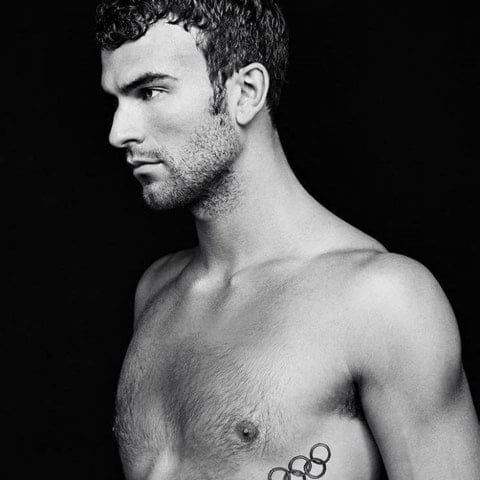 Canadian figure skater Eric Radford (above) seriously considered coming out publicly prior to the Sochi Olympics. 
But ultimately Radford decided he didn't want to be a poster child at an event where gay rights were sure to be a hot-button issue — or worse, risk scrutiny from Russian authorities looking to enforce the country's anti-gay law.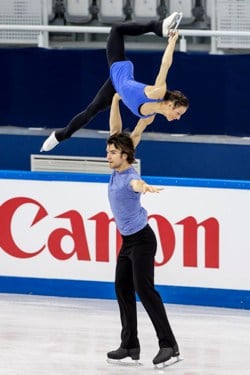 "My concern was that I would be known as 'the gay athlete' if I came out at the Olympics, rather than Eric the medalling figure skater who happens to be gay," Radford tells OutSports. "And I felt uncomfortable with that title."
Whether you agree with it or not, Radford's decision appears to have paid off. Focused on the competition and not media hype over his sexuality, he helped the Canadian team earn a silver medal in Sochi.
Now, as he and his figure skating partner, Meagan Duhamel (right), continue to enjoy remarkable success, Radford decided the time was right. According to OutSports, he becomes the first elite figure skater to come out at the height of his career. 
Radford and Duhamel are three-time defending Canadian pairs champions — and they won bronze at the World Championships in 2013 and 2014. Now, they're setting their sights on the 2018 Olympics in South Korea — Radford even got a tattoo on his chest as a symbol of his dedication to that goal. 
In the OutSports interview, Radford recalls how he was teased mercilessly as a child, not only because figure skating was considered a "gay" sport but because he had a lisp. But being gay in figure skating pairs also has its advantages, Radford says:
"A lot of pairs end up dating one another. It can become risky because your on-ice training can be affected by your off-ice relationship. If you have a fight at home, it makes that training difficult. I used to joke around that I'm the ultimate pair-boy. I never had to worry about developing an off-ice relationship."
Although he just came out publicly, Radford says many in the figure skating community already knew. He and his boyfriend have been together four years, and they're raising a daughter together.  
Read Radford's full interview with OutSports here.
Watch videos of Radford completing a performance despite a broken nose in 2011 and taking the ice bucket challenge with his boyfriend earlier this year, AFTER THE JUMP …