A panel of judges from the 9th U.S. Circuit Court of Appeals has ruled that Measure B, the Los Angeles county ordinance mandating condom use by adult performers on set, does not violate the adult film industry's First Amendment rights. Measure B was first adopted in 2012 after being put up to a vote by LA county residents. Though many adult film studios mandate routine health screenings, proponents of Measure B reason that compulsory condom use would create safer work environments by lowering the risk of potential exposure to STIs.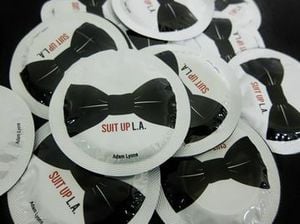 The adult film industry's legal representation contended that forcing studios to make their performers wear condoms was tantamount to limiting a studio's right to free speech. The three-judge panel ruled that in order for the studios' defense to be valid, there would have to be a demonstrable muddling of a studio's intended message.
"Here, we agree with the district court that, whatever unique message plaintiffs might intend to convey by depicting condomless sex, it is unlikely that viewers of adult films will understand that message," Judge Susan P. Graber explained in the the panel's written majority.
In its decision, the Ninth Circuit also referred to a statement from the LA County Department of Health highlighting the fact that adult performers, on average, were about ten times more likely to test positive for STIs as compared to the general public. Since Measure B's passing, the adult film industry in LA County has shrunk drastically. Some studios continue to operate without the proper permits, while others have simply left the area.
Similar efforts to increase condom use, like assembly bill AB 1576, have begun to pop up across California to varying degrees of success.  AB 1576, which was defeated earlier this year, was met with backlash for its potential to put certain adult performers out of work.