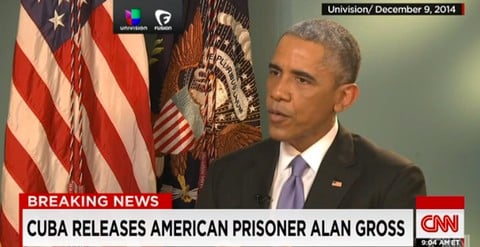 President Obama is set to announce a broad new range of changes to the U.S. Government's policies toward Cuba including talks to normalize full diplomatic relations and open an embassy, the AP reports.
The announcement was preceded Wednesday morning by the freeing of U.S. contractor Alan Gross, held in Cuba since 2009, CNN adds:
Gross' "humanitarian" release by Cuba was accompanied by a separate spy swap, the officials said. Cuba also freed a U.S. intelligence source who has been jailed in Cuba for more than 20 years, although authorities did not identify that person for security reasons. The U.S. released three Cuban intelligence agents convicted of espionage in 2001.
President Obama is also set to announce a broad range of diplomatic and regulatory measures in what officials called the most sweeping change in U.S. policy toward Cuba since the 1961 embargo was imposed.

CNBC adds:
Obama plans to overhaul Cuba's policy while Cuba plans to free 53 political prisoners and to allow U.S. debit and credit cards, Dow Jones reported.
General tourism will still not be allowed but some travel restrictions will be eased for the purposes of making it easier for Americans to do business there.
Some of the other changes, according to CNN:
In an effort to boost the nascent Cuban private sector, the President will also allow expanded commercial sales and exports of goods and services to Cuba, particularly building materials for entrepreneurs and private residences, and allow greater business training, as well as permit greater communications hardware and services to go to the island.
Other announced changes permit U.S. and Cuban banks to build relationships and travelers to use credit and debit cards. U.S. travelers will be allowed to import up to $400 worth of goods from Cuba, including $100 in alcohol and tobacco — even Cuban cigars. Remittances by Americans to their families back in Cuba will also be increased to approximately $2,000 per quarter.
While only Congress can lift the decades-long full embargo, the President appears to be extending many measures which are within his power.
Many, of course, will be asking how the human rights violations of the Castro regime will be addressed during these talks. Just this week, on Human Rights Day, more than 100 and reportedly up to 240 political activists were arrested throughout the island.
Obama is set to speak about Gross and Cuba at 12 ET today. At the same time Cuban President Raul Castro will be giving a press conference about the policies in Havana.
A CNN report on Alan Gross, AFTER THE JUMP…