"Ex-Gay" Billboard In Virginia Claims "Nobody Is Born Gay" – VIDEO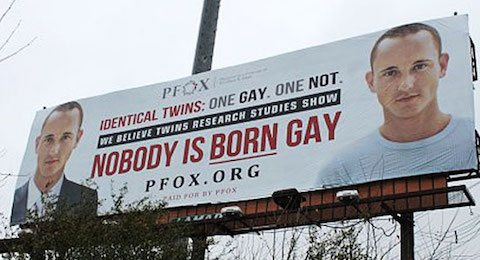 A Virginia-based "ex-gay" activist group has erected a billboard in Richmond along a major state highway with the words "Nobody is born gay", reports Huffington Post.
The group behind the billboard Parents and Friends of Ex-Gays & Gays (PFOX) has publicly supported the notion of "conversion therapy" or "reparative therapy" in the past, despite the fact that the harmful practice has been condemned by the American Psychological Association and banned in two states and Washington, D.C.

Bizarrely, PFOX says that the billboard aims to "increase others' understanding and acceptance of the ex-gay community."
The billboard refers to two studies that purportedly deny the existence of a "gay gene". This interpretation of the study has been refuted by its main researcher.
In response to the billboard, Bill Harrison of the Richmond Gay Community said:
"We do not know why people are heterosexual. Maybe when we figure that out, we can determine why some people are not. What we do know is that this type of therapy has caused many people to commit suicide."
A representative for Lamar Advertising, the group that owns the billboard said:
"It is in the best interest of our company and the communities we serve to accept advertising copy openly. We do not accept or reject copy based upon agreement or disagreement with the views presented."
The billboard is set to run through January 4th.
Watch a report, AFTER THE JUMP…
In 2012, a school district in Maryland defended the distribution of flyers from PFOX to high school students.