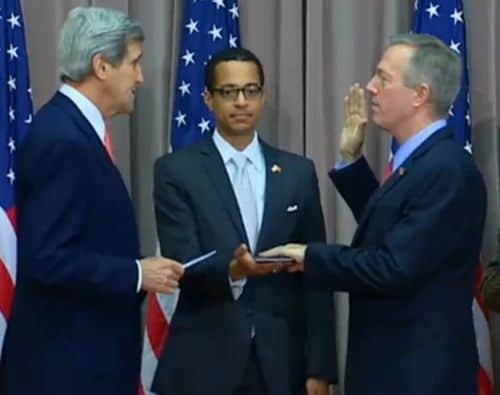 Yesterday, Ted Osius III was sworn in by Secretary of State John Kerry as the U.S. ambassador to Vietnam. Osius is the first openly gay U.S. ambasaddor to serve in East Asia.
Said Secretary Kerry at the swearing-in ceremony:
When Ted first joined the Foreign Service, being open about who you love was grounds for having your security clearance yanked. Today, the LGBT community is embraced by the Foreign Service and well beyond. And we issue family visas for same-sex couples, and with the help of Pat Kennedy, OPM has removed exclusionary language from health insurance plans regarding gender transitions.
Folks, that's part of the message we want to send to the world: example, leading by example, that we point to our flaws – and we just did so yesterday in a pretty bold way – but we do so understanding that's the way you make things better in the long run, and that every day we are redefining the meaning of our great American experiment.
Watch the ceremony here. You can also check out a video message Osius sent to the people of Vietnam shortly before his confirmation, AFTER THE JUMP…
HRC's Legislative Counsel Remington Gregg adds: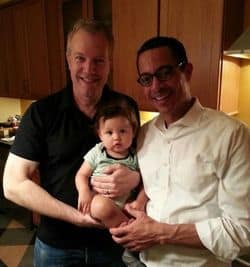 Osius becomes the seventh openly LGBT individual to be confirmed as an ambassador during the Obama Administration.  With more than 90 million citizens, Vietnam is the world's 13th most populous country.
Osius is a former career diplomat who has served in Indonesia, India, Thailand, the Vatican, Philippines, and Vietnam, and was a senior advisor for international affairs during the Clinton Administration.  Osius is married and has one son.
Currently, Vietnam does not recognizes same-sex marriage even though the Vietnamese health minister recommended legalization, citing research which shows that stigmatization faced by LGBT people can have serious health consequences. 
[bottom photo via Facebook]