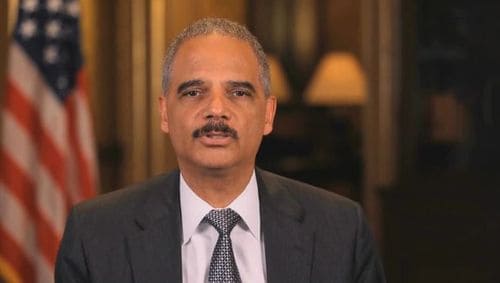 U.S. Attorney General Eric Holder announced today the Department of Justice will begin taking steps to bar profiling by federal law enforcement agencies in regards to national origin, gender, gender identity, religion, and sexual orientation. 
Via DoJ statement:
In announcing the new policy, the Attorney General said that biased law enforcement practices not only perpetuate negative stereotypes and promote mistrust of law enforcement, but also are counterproductive to the goal of good policing.
"As Attorney General, I have repeatedly made clear that profiling by law enforcement is not only wrong, it is profoundly misguided and ineffective," Attorney General Holder said. "Particularly in light of certain recent incidents we've seen at the local level, and the widespread concerns about trust in the criminal justice process, it's imperative that we take every possible action to institute strong and sound policing practices."
The Attorney General added: "With this new guidance, we take a major and important step forward to ensure effective policing by federal law enforcement officials and state and local law enforcement participating in federal task forces throughout the nation. This Guidance codifies important new protections for those who come into contact with federal law enforcement agents. And it brings enhanced training, oversight, and accountability to federal law enforcement across the country, so that isolated acts of discrimination do not tarnish the exemplary work that's performed by the overwhelming majority of America's hard-working law enforcement officials each and every day."
The new policy, which is spelled out in a memorandum circulated Monday, instructs that, in making routine or spontaneous law enforcement decisions, officers may not use race, ethnicity, gender, national origin, religion, sexual orientation, or gender identity to any degree, unless listed characteristics apply to a suspect description. Under the policy, federal law enforcement officers will be prohibited from acting on the belief that possession of a listed characteristic by itself signals a higher risk of criminality. 
The news joins the DoJ's newly announced limits on racial profiling in response to the continued nationwide protests in the Eric Gardner case.