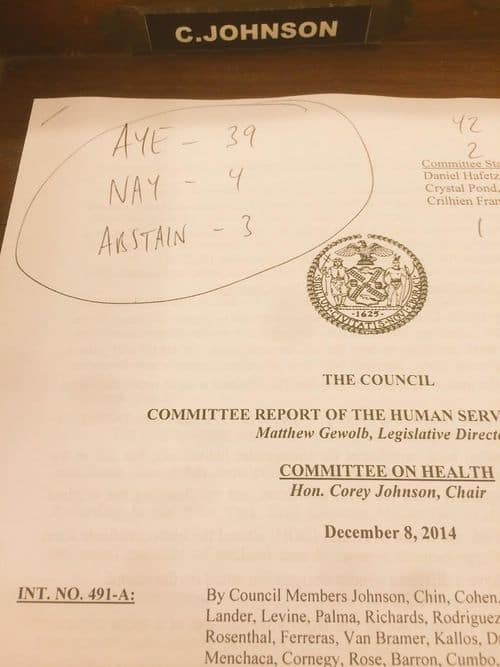 The NYC City Council has passed a bill introduced in October by New York City councilman Corey Johnson which allows transgender people wishing to change the sex designation on their birth certificate to do so without offering proof that they have had surgery.
The bill passed 39-4 with three abstentions. Johnson posted a photo of the bill to Twitter (above).
The Transgender Legal Defense & Education Fund applauded the bill's passage:
The new policy will require that a licensed health care provider state that an individual's true sex is not accurately recorded on their current birth certificate. Mayor Bill de Blasio is expected to sign the bill into law. The Board of Health is expected to adopt regulations tomorrow that mirror this legislation.
Today's action will make it easier for transgender people to correct the sex designation on their birth certificates. This new legislation comes after TLDEF clients Joann Prinzivalli, Patricia Harrington, Marco Wylie, and Naz Seenauth sued the City in a first-of-its-kind lawsuit challenging the requirement that transgender people undergo surgery in order to correct their birth certificates.
"We are thrilled by the passage of this legislation," said TLDEF Executive Director Michael Silverman. "Today's action will dramatically improve the lives of transgender people born in New York City. We thank Councilmember Corey Johnson, the City Council and the Board of Health for taking action. The city's policy served only to harm transgender people and they moved to change it. We also thank the many activists and advocates who have worked tirelessly to ensure that the city's harmful policy will be changed."
The NYCLU also praised the Council's actions. Said NYCLU Executive Director Donna Lieberman:
"This change comes as welcome news to the many New Yorkers struggling with harassment, discrimination, and endless bureaucratic nightmares all because they lack identification documents that match who they are. We applaud the City Council and the Department of Health and Mental Hygiene for their efforts to promote equal opportunity for transgender New Yorkers."