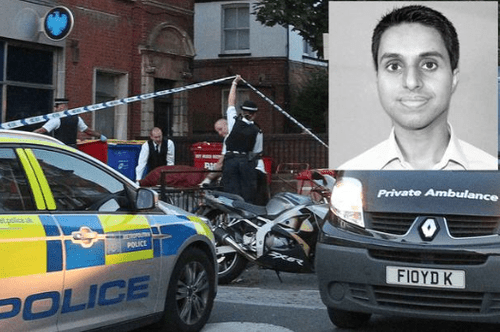 A London doctor committed suicide when he jumped from the fourth floor of his luxury penthouse apartment on Harley Street in reaction to his mother telling him to "seek a cure," after coming out to her, reports the London Evening Standard. 
Dr. Nazim Mahmood leapt to his death from his balcony the street on July 30, traumatizing nearby pedestrians and children who witnessed his death. An inquest at St. Pancras Coroners Court relayed information that before Mahmood's death, he told his mother that he was gay and revealed his 13-year relationship with his fiance, Matthew Ogston.
Dr. Mahmood kept his sexuality secret from his Muslim family in Birmingham because of fears that their religion would prevent them from accepting him. When Dr. Mahmood returned home to celebrate Eid, commonly known as Ramadan, he decided to come out to his family. Ogston, Mahmood's fiance, revealed that the doctor's mother was less than supportive.
Said Ogston:
"She had suggested to him he needed to see a psychiatrist to see if he could be cured. Together I think they agreed they would get through it. Telling someone they needed to be cured would not be the easiest thing to take."
The court found that Dr. Mahmood, having never suffered from depression or any other mental illness, took the drugs mephedrone and ketamine shortly before his death. Dr. Mahmood was a GP who also ran Face Clinic London – a chain series of medical clinics providing facial treatments for wrinkles such as Botox and chemical peels. Ogston is deeply saddened in the passing of the man he was about to marry, calling him his "soulmate."
Coroner Mary Hassell officially ruled that Dr. Mahmood took his life, and no foul play is involved. Hassell also expressed sadness for Dr. Mahmood's situation.
Said Hassell: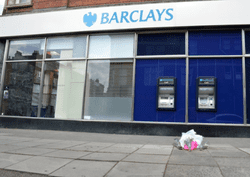 "It seems incredible that a young man with so much going for him could have taken his own life. But what I've heard is that he had one great sadness which was the difficulty his family had in accepting his sexuality.
"It seems desperately sad that in 2014 a person should feel that they can't be accepted because of the way that they live and I can only feel the deepest sympathy for Nazim that he felt so sad and desperate about this that he took his life."
Witnesses say Mahmood's body was left lying on the pavement, covered with a thin, red blanket, just yards away from a busy shopping area for almost four hours. One witness said, "The body was left outside for hours. I can't believe they just left it there. It's like he's an animal." A Scotland Yard spokesman apologized for not having a tent available to shield the body from the public.
The spokesman said:
"There was no tent available to officers to shield the body from the public. Officers instead used blankets. We apologise for any distress this may have caused members of the public."
Dr. Nazim Mahmood graduated from Birmingham Medical school in 2003 and moved to London a year later. He worked in several hospitals with a variety of specialties including HIV medicine, gynecology, orthopedics, pediatrics, accident and emergency before completing specialist training as a GP. Dr. Mahmood, along with colleague Dr. Anita Kapoor, founded Face Clinic London in 2009 with clinics located in Soho, West Hampstead and Harley Street.