The Interplay is a special biweekly series exploring the intersections of sex, pop culture, and current events.
The writing is on the wall: we've (unsurprisingly) hit peak mobile application. In the early days of powerful mobile computing the idea of there being "an app for that" was radical. Creating virtual communities unbound by space, time, and economic circumstance was game changing for gay men across the world.
As the years have gone on, however, gay social networks that live on servers have flooded the market with variations of the same guy-on-a-grid experience. If Grindr, for example, is for everyone, then Scruff is for everyone with a little bit more body hair. Growlr's the same, but for bears, and Daddyhunt's focused primary on connecting strapping men of a certain age. Beneath slightly different coats of paint all of these applications are derivative of one another. It's time that we demand more of them.
Last week Scruff's Chief Product Officer Jason Marchant published an op-ed in the Huffington Post describing the steps Scruff has taken to work against the cultural stigma attached to being HIV-positive. Scruff, like an increasing number of mobile networking apps, is emphasizing the use of categorical filters to help its users find the kinds of guys they're looking for without risk of being ostracized.    
"For "Poz" guys uncomfortable disclosing status in their profile, "HIV Status" presents a fraught choice: to answer "Negative" would be dishonest, but any other answer — including no answer — is often interpreted by other users as a tacit disclosure. It's also a problem for HIV negative guys searching for the same. Seeing "Negative" presented next to other profile "stats" conveys a false sense of permanence.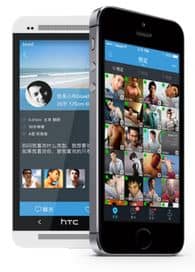 Recently applications like Scruff have positioned themselves as valuable assets in efforts to curtail the spread of various STIs. As a part of New York Governor Andrew Cuomo's plan to eradicate new HIV infections in the state by 2020, New York City began using Grindr and Scruff to inform gay men about pre-exposure prophylaxis (PrEP). Blued, a popular Chinese gay networking app, actively encourages its users to seek out HIV tests at its parent company's office free of charge.  
All of these platforms want to be thought of as more than hookup apps, and gradually their platforms are trying to address the gay community's needs other than sex. Other than public health outreach and offering free advertising space, however, the "social" experience of these networks seems to have plateaued. It doesn't have to be that way, though.
CONTINUED, AFTER THE JUMP…
The problem with nearly every gay social app is that they're riffing on the same set of core features. Being able to pinpoint and communicate with a guy while you yourself were mobile was a marked evolution from phone personal ads, party lines, and online chat rooms. Grindr expanded on the idea of cruising by turning all public spaces into potential cruising spots that anyone with a phone could quietly opt into. Gay social networks looking to differentiate themselves from the competition need that same kind of re-thinking of old norms.
Blaming apps for the decline of gay bars here the U.S. is an easy criticism that ignores some of the major failings of traditional watering holes. Many guys long for the halcyon days when local gay bars were the epicenter of gay social activity. That nostalgia belies the fact that physical gay bars separated different types of gay men from one another much in the same way that mobile apps do. Theme nights, cover charges, and physical location stratify physical bars based on race, class, body type and age.
In trying to create the next big thing in digitally based gay networking, applications could focus on turning the drawbacks to physical gay bars on their heads. If the idea is truly to build communities, why not allow actual groups of people (more than two) to interact?
Rather than merely recreating a bar setting in the cloud, why not use an application to organize group gathering in a neighborhood? Nextdoor is a social media startup built around the idea of getting to know your neighbors. They're the people living right next door to you, so why not have a casual familiarity with them?
In its pursuit of creating a stronger, more connected gay community the next Grindr or Scruff could focus on maintaining disappearing gayborhoods. Gay networking apps may not want to be pigeonholed as being just for hookups, but until they venture beyond their current set of features we'll just have to keep looking for something else.