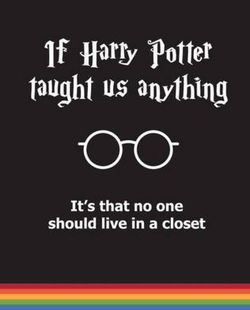 Though it's been over seven years since the release of Harry Potter and the Deathly Hallows, Potter enthusiasts' interest in the wizarding world remains as strong as ever. In a public Twitter chat with her readers, J.K. Rowling took the opportunity to field questions from Harry Potter fans about the Hogwarts student body.
A number of questions focused on diversity within Hogwarts. While characters of color like Cho Chang, Parvati Patil, and Angela Johnson were featured prominently throughout the series, readers were curious as to whether any of the students were ever queer-identified.
"But of course," Rowling tweeted matter of factly with a graphic message reading: "If Harry Potter taught us anything, it's that no one should live in a closet."
Throughout the series' seven novels no characters were explicitly identified as being lesbian, gay, bisexual, or transgender. Rowling did, however, eventually reveal that Albus Dumbledore, one of Hogwarts's most esteemed headmasters, was always a gay man in her mind.