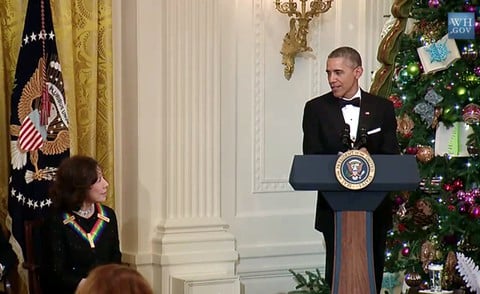 The Kennedy Center Honors took place last night in Washington, D.C., and the annual performing arts honor was bestowed on Tom Hanks, Al Green, Sting, Patricia McBride, and Lily Tomlin.
Before the event took place, President Obama offered remarks for the honorees in the East Room of the White House and Obama's humor was particularly on point. Take a look at the whole speech.
Said the President of Tomlin's tribute:
"When asked what she hoped her tribute tonight would look like, she said, 'What I'd like to see is a big stream of gay drag artists come out as Ernestine.' I haven't talked to George Stevens.  I don't know whether this has been arranged. Although, I'd like to see it, too.  I think — "
Watch, AFTER THE JUMP…
(note: clip begins at Tomlin remarks – manually move it to beginning to hear full speech, including remarks on Green and McBride)