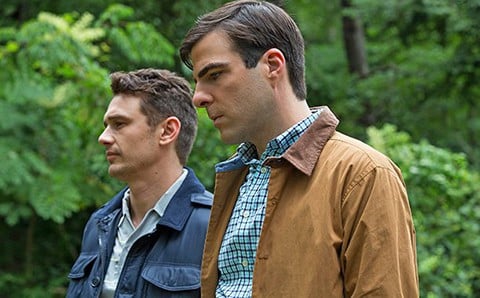 New photos have been released showing actors Zachary Quinto and James Franco in their upcoming film Michael, produced by Gus van Sant, which follows the life of "ex-gay" activist Michael Glatze. As Attitude Magazine notes, Glatze was the "co-founder of [the short-lived publication] Young Gay America and a strong advocate for gay rights, who later denounced homosexuality after a health scare." Glatze married a woman in 2013. Emma Roberts will play Franco's wife in the film.
We also learned just yesterday that Scissor Sisters' Jake Shears will be scoring the film. Shears made the announcement on Instagram: "Thrilled to announce that I have scored my first feature film with Tim Kvasnofsky."
Michael will also reportedly feature a steamy threesome between Quinto, Franco and Charlie Carver (whom Towleroad readers may remember from his Teen Wolf days). 
Check out a few more sneak peeks of Michael, AFTER THE JUMP…
And in case you missed them, peep a look at Quinto and Franco is late 90s / early 00s period attire HERE.
(Photos via Attitude UK)