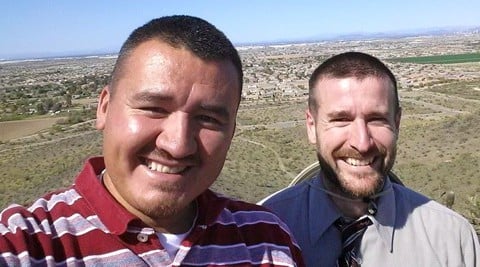 Pastor Steven L. Anderson (above right), of Faithful Word Baptist Church in Arizona, made headlines earlier this month when he said the world would be AIDS-free by Christmas if we simply stoned all gay people to death. 
Anderson has also said that gays are "basically rapists" and compared them to ax murderers and Hitler.
Now, it appears Anderson has a disciple who is every bit as hateful as he is.
Right Wing Watch reports that earlier this year, Anderson ordained Pastor Donnie Romero (above left), who now leads Stedfast Baptist Church in Fort Worth, Texas. 
Last Sunday, Romero delivered a sermon called "Public Example" in which he also called for gays to be put to death: 
"I'm going to explain to you why God wants these people to be put to death. … The word of God is very clear that God is against the sodomites, that they're filthy and it says they're an abomination to God. … I love that part of the Bible, and I'm going to preach that part of the Bible until the day I die, and if I ever stop preaching that part of the Bible, I hope my kids tell me, 'Dad, you're going soft on sin, you need to get up there and rip on these queers, because it's only getting worse and worse.' 

"And amen to what Pastor Anderson said — I'm not going to let any of these dirty faggots inside of my church. They are all pedophiles. … They're always trying to rape and hurt other people. They're relentless. They are relentless. They are predators and given an opportunity to snatch one of your children, they would do it in a heartbeat." 
Watch the clip as well as Romero's full sermon, AFTER THE JUMP …