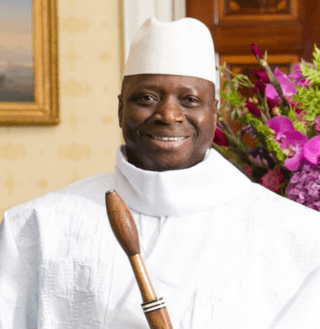 An early morning hostile attempt at seizing power from Gambian president Yahya Jammeh has been foiled, according to Agence France Presse. The unsuccessful military coup was led by a handful of members of Jammeh's own personal guard who stormed the presidential palace around 0300 GMT.
At the time Jammeh was traveling abroad in Europe. Eye witnesses and army officials have confirmed accounts, saying that the insurgents were driven back by military gunfire.
Small outbursts of unrest have broken out in parts of Banjul, the country's capital. In response to the fighting Gambian military officials have begun urging some civilians to remain in their homes and not go to work for the time being. Gambia's borders with neighboring Senegal also appear to have been temporarily closed.
Jammeh made a name for himself after wresting control of Gambia's government through a similar military coup in 1994. One of the most prominent features of Jammeh's dictatorship-cum-presidency has been his staunch position to homosexuality.
Despite protestations from multiple Western nations that provide substantial international aid to Gambia, Jammeh has repeatedly reaffirmed his intentions of showing no mercy to Gambia's LGBT population.