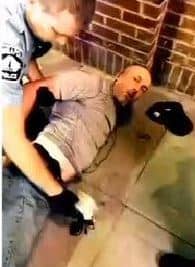 A Minnesota man, Wayne Steven Odegard, who harassed patrons and shot a gay couple with a CO2 powered BB gun outside of a Minneapolis gay club in September was sentenced on Thursday to spend six months in Hennepin County adult detention center reports LGBTQ Nation. The court also ordered Odegard to undergo chemical dependency and psychological evaluations and attend anger management classes. Due to the factor that his crime was based on the sexual orientation of his victims, the court raised his probation period from three years to five years.
The attack occurred on Sept. 25 when Odegard approached the Saloon bar on Hennepin Avenue and started harassing patrons standing outside, hurling gay expletives and making disparaging remarks toward the crowd and a gay couple holding hands. Shortly after his remarks, Odegard pulled out the BB gun and began shooting into the crowd of patrons. Tyler Erickson, a security guard for Saloon, witnessed the entire altercation and pursued Odegard as he fled the scene.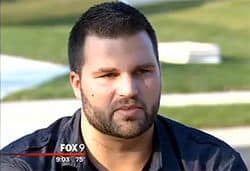 Said Erickson:
"I ran after him and then it ended up he shot a different gay couple in the leg, with that gun and it went through his jeans and drew blood.
"He told me multiple times that I'm going to go to hell and he's going to bring me with him. He recited a biblical passage — I think it's a Deuteronomy passage."
Erickson caught Odegard and held him until police arrived, charged and arrested Odegard for making terroristic threats-Odegard plead guilty to the charges in October. No one was seriously injured in the attack; the man shot in the leg only suffered minor injuries.