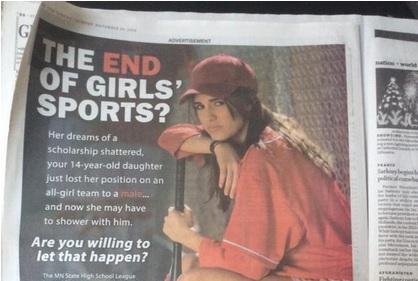 Minnesota's largest daily newspaper is doubling down on its decision to publish misleading, fear-mongering, transphobic ads opposing a policy that would allow high school students to participate in athletics according to their gender identity.
But The Star-Tribune of Minneapolis isn't alone. Also publishing the latest ad from the anti-LGBT Minnesota Child Protection League on Sunday were The St. Cloud Times and The Duluth News Tribune, according to Media Matters. 
The ad states:
"THE END OF GIRLS' SPORTS? Her dreams of a scholarship shattered, your 14-year-old daughter just lost her position on an all-girl team to a male … and now she may have to shower with him. Are you willing to let that happen?"
The ad calls on people to contact Minnesota State High School League board members, who are set to consider the policy Thursday. 
Back in September, LGBT advocates slammed The Star Tribune for publishing a similar ad from the Minnesota Child Protection League opposing the policy, which was originally set to be voted on in October: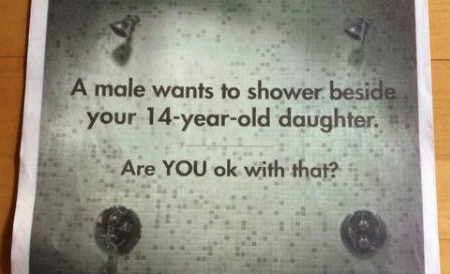 According to the LGBT Sports Coalition, 15 states have adopted policies similar to the one proposed in Minnesota, with no reported problems related to trans athletic participation:  
"By running the ad again, the Star Tribune has once again contributed to a negative stereotype at the same time as it has potentially put trans youth in danger by fostering a demonstrably untrue accusation. Editorial decisions matter. Research has shown that LGBT teens and young adults are at greater risk for depression and bullying, and that bullying is a contributing factor in many suicides. By accepting and publishing this kind of advertisement, the Star Tribune has empowered the untrue expectation that one minority group — transgender children, no less — are a threat to their classmates.

"Worse yet, the Star Tribune already knew that the content of the ad was deliberately misinformative about trans youth while advocating discrimination, because editors at the Star Tribune have already discussed the first ad (run by the same local hate group in September) with local and national LGBT organizations after they ran the first ad in September. The Star Tribune already knew that the content of the new ad also misrepresented trans lives and endangered trans youth — and elected to run it again anyway."
The Star Tribune is also taking heat on Twitter, including from NBC Sports writer Aaron Gleeman: 
Sub in basically any other group of humans for transgendered people and try to imagine a newspaper accepting the ad. pic.twitter.com/WE0iqXBEQY

— Aaron Gleeman (@AaronGleeman) November 30, 2014
Representatives from The Star Tribune, which editorialized in favor of the trans-inclusive policy in October, haven't commented on the latest ad. In September, the newspaper's vice president of marketing and public relations told Minneapolis City Pages: "The ad in question met all the requirements of our ad policy. Not much I can tell you about it beyond that."
But it appears that for many, that explanation isn't cutting it. While the advertising director of The Duluth News Tribune told Media Matters it's a question of free speech, some are calling on subscribers to make their own statement: 
Honestly if you haven't canceled your @StarTribune subscriptions already, I will lose respect for you. http://t.co/2OBoTXXrRz

— Nachiket Karnik (@lockstockspock) December 1, 2014